Book Launch
Tom Wegener
The most valuable thing I can do is pass on what I have learned about surfing and surfboards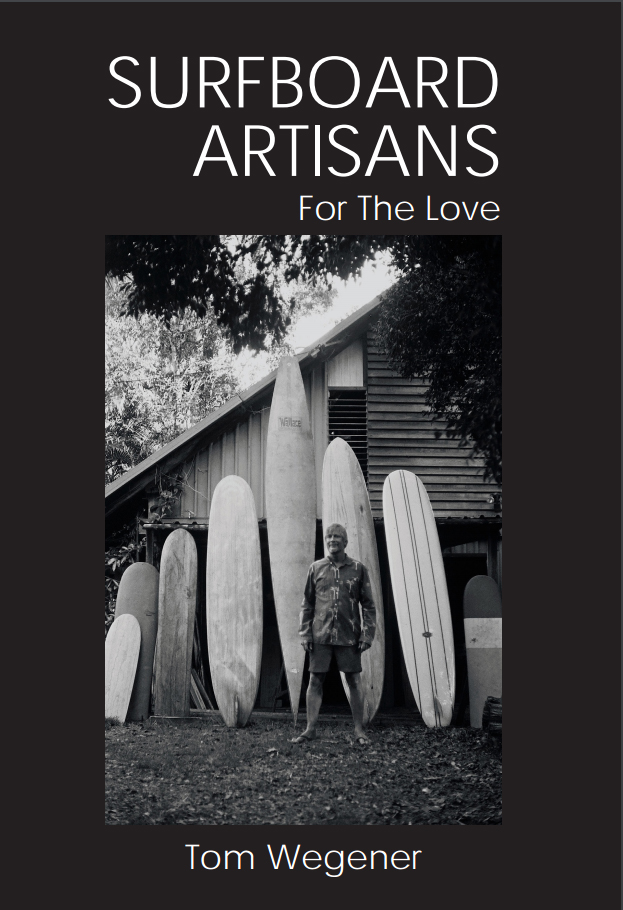 Why do we get out of bed in the morning? What are the emotions we want to feel and the things we want to experience? What is valuable to us? I know that I really love surfing. I love the feeling, the stoke, the history, surfboard design, the characters.... There is so much to love about surfing. It is what I want to do. My three years of research into the surfboard industry has taught me that passing on surfing culture and surfboard knowledge is the most important aspect of my profession.  It creates value for me and the world's surf cultures.  It is important and I love it.  I have nearly completed a PhD on the sustainability of the surfboard industry and I have turned my research into a book, "Surfboard Artisans For the Love." 
I take the reader on my personal journey through 35 years of making surfboards as well as numerous excursions with other surfboard artisans, philosophies and surf cultures.  My goal is to understand the worldview of surfboard artisans.  My story explores how we value art, friends, travels, family and the sharing of surf culture.  Money is merely the oil which keeps artisans lives running smoothly.  This is why surfboard makers tend to not have a lot of money, but a wealth of life experiences and this is why the surfboard industry is remarkably sustainable.  In coastal towns around Australia, the USA and many other countries, there are thousands of small surfboard manufacturers. This industry has survived the perils which have ended other manufacturing industries (golf clubs, cricket bats, automobiles in Australia…).  "Surfboard Artisans For the Love" explains why the surfboard industry is so unique, amazing and sustainable.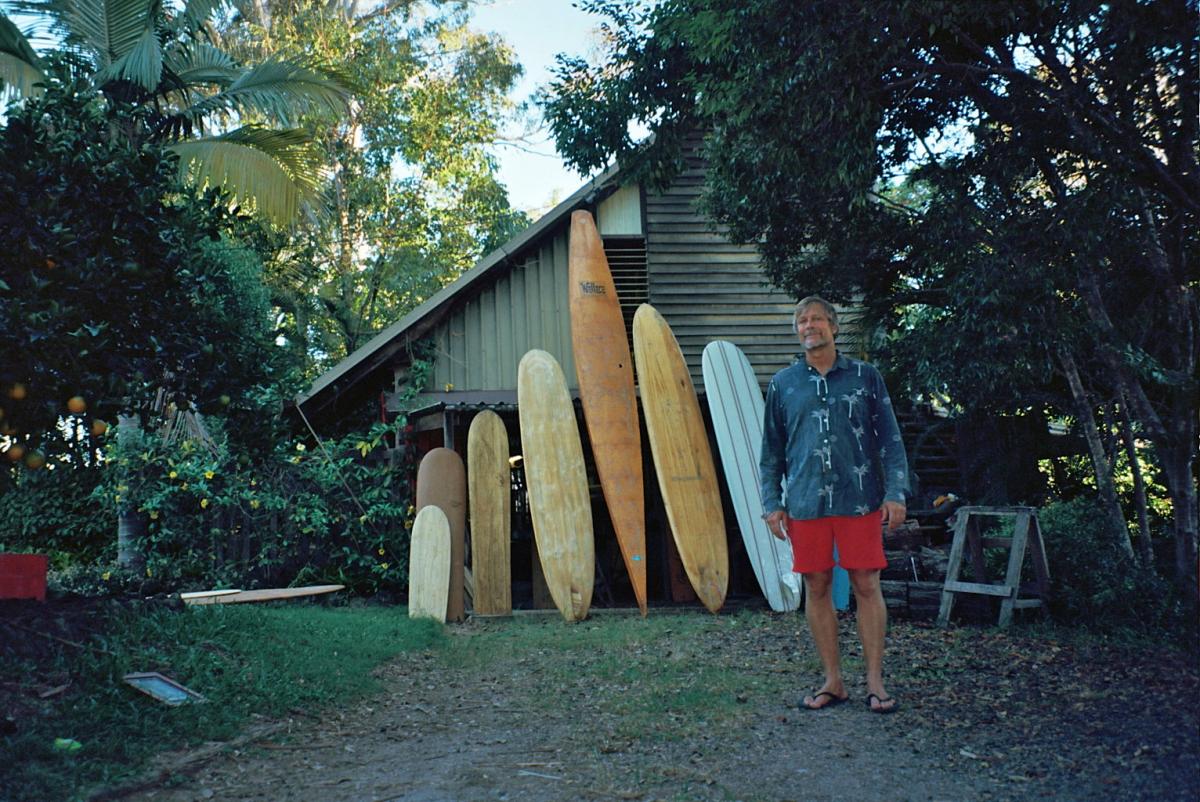 I take the reader on a journey through my own experiences as a surfboard maker and the different types of surfboards I have created. In the photo from left to right;  4' surfie bellyboard, 5'6 new flexible "corky" tuna, 6'6 alaia I made for David Rastovich featured in lots of films and photos, 9'6 hollow plankton noserider, 16' toothpick Bill Wallace made for me, 12' Sunday Model featured in the movies Seaworthy and the Present, 1st point Model which I shape for Noosa Longboards and behind me the 5'6 Albacore which I licensed to Global Surf Industries. Photo by Dan Prior @demondemondan.
Excerpts from the book:
From Chapter 2: Beginnings; the culture of the 1970s
As much as I loved riding the old boards, my 14 year old body did not enjoy carrying them around.  In 1979 I had saved enough money to have a lighter version of a longboard made.  I had a vision in my mind of a mid-length longboard with a rounded nose and tail.  My parents took me to ET Surfboards one weekend to have the board shaped.  Usually a person would fill out an order sheet and leave it with the shop.  On this day the shop owner, Eddie Talbot, said Gumby the shaper was next door in the surfboard factory and I should just walk over there and hand him the order.  He will do it now.  I couldn't believe my luck.
We walked across the parking lot to the hallowed ground of the surfboard factory.  There were surfboards in different stages of construction all over the place.  The fumes of resin, polishing compound and acetone filled the air. The smell was like incense to a young surfer. It was a place of excitement; where dreams come true.  Gumby appeared. He was a tall scruffy 25 year old or so with a big mop of bleached blond hair. He asked me what sort of board I wanted.  I explained how I wanted a board with a round nose and tail and he said, "Oh, you want an egg." "Yes, exactly!!!" I exclaimed.  He suggested that 8' was too long for me and I should try a 7'6".  I said OK.
But before he started a younger shop helper, who must have been 16 or so years old, said a board was ready to laminate.  Laminating is the process of pushing the resin into the fibreglass which is laid over the shaped foam surfboard. The younger helper had prepared the resin and fibreglass and all Gumby had to do was put the resin on.  In a flash Gumby was pouring resin on the board and quickly pulling it off, leaving only the resin which had soaked into the fibreglass cloth.  He explained that he wanted to saturate the cloth as quickly as possible and pull the rest of it off before it penetrated the surfboard foam.  This made the board lighter.  Five minutes later he was done and we went back to the shaping room. 
Gumby selected a surfboard blank that was the right size and dimensions for my board and drew a template on it.  The outline looked good and I gave him the thumbs up.  With a big hand saw he cut out the shape and began cutting off the foam with his power planer.  I watched him reveal the surfboard I dreamed of from within a crusty old surfboard blank.  I watched as he went through all the stages of shaping a surfboard, walking up and down along the board as the foam was cut off in finer and finer layers. He would take a cut off one side and walk to the other and take the mirror image of the cut so the board was symmetrical.  He would glance at me and then cut the board a little more to make the board the right size. He cut the rails in to bevels so they looked like the side of a stop sign, and then with more bevels the shape of the rail appeared.  I felt I was watching a guru at work. I was in awe at the speed and precision of his hands.  He was so focused and seemed to fall into a trance as he worked.  After an hour a most beautiful thing had emerged. He wished us well and we were off.
My parents were standing behind me the whole time.  They patiently watched and did not say a word.  They did not complain about unexpectedly spending a day in a surfboard factory.  I wonder if they knew this was my day.  I was going to shape surfboards.  My future was set.  I had seen the magic happen and now I wanted to be a wizard.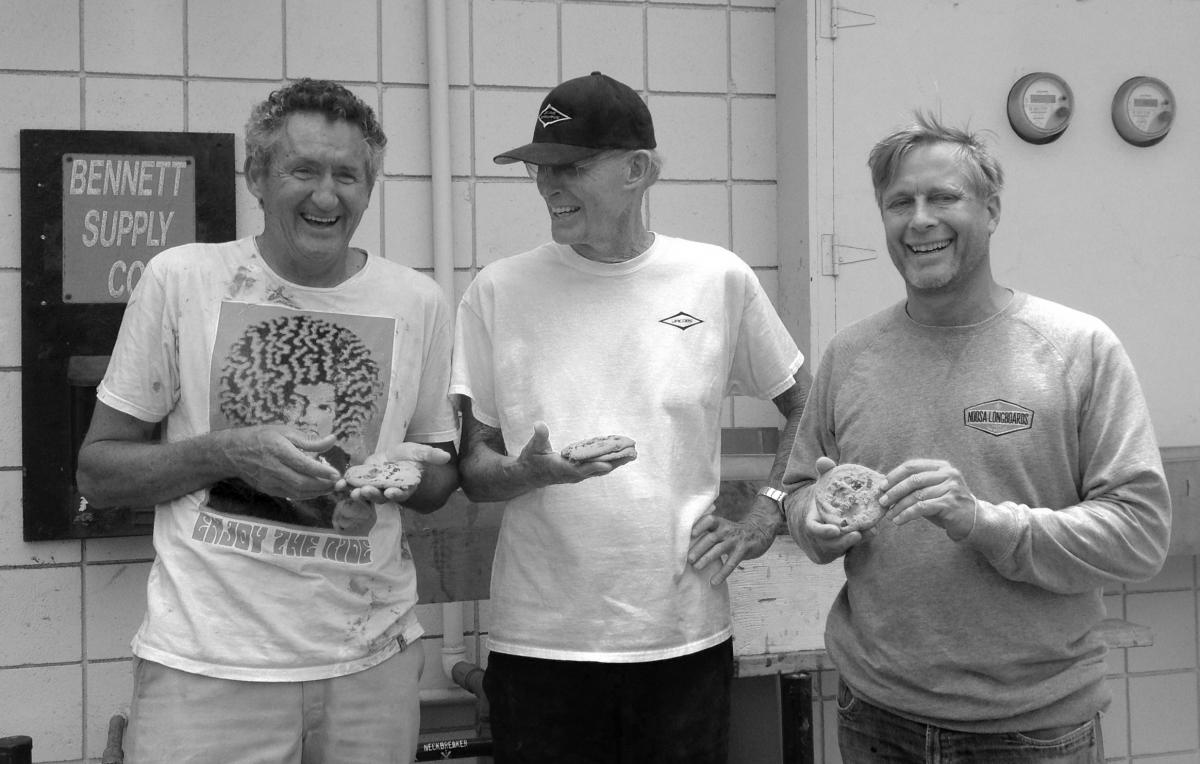 Pat "Gumby" Ryan, Hap Jacobs and Tom Wegener, 2015. I went to California to interview these two and found them to be eternal groms. They are still shaping surfboards and loving it as much as ever!  Here we are eating extra-large chocolate chip cookies.
From Chapter 5: Reflection on surfboard industry to 2005
In 2005, twenty two years after I had graduated from high school, the culture of the surfboard industry had not changed.  Surfboard raw materials were still inexpensive and I could set up a factory in one room of an old shed. With my foam surfboards from 1999 to 2003, I could immediately compete with the most established surfboard makers in Australia. This is an example of how low barrier of entry is the industry's biggest asset or strength.  It fuels surf culture evolution, as it creates fertile ground for new high art. The high art I created contributed to the growing culture of traditional longboarding in Australia and this culture in turn supported me. My upbringing in the shortboard revolution gave me the confidence that I needed in order to jump into the surf industry in a new country. The culture of supporting innovative surfboard artisans, surfing styles and designs meant that I had a market open to my new surfboards. The low barrier of entry allowed me to get into the industry and gave me a clear path to creating hollow wood surfboards and the wood surfboard revolution. Because of this culture I was able to obtain ten orders for my hollow wood surfboards before I actually sold one.
From Chapter 9: The Criticism Begins
Soon after the tunas hit the market [made by Global Surf Industries] I began to experience criticism from others in the surf industry.  I was being called a "sell out", and the most notable condemnation came from articles written by Derek Hynd. Hynd took the fins off his surfboards around the time I began my alaia journey in 2005.  We were both pursuing a similar, new approach to surfing though we were unaware of each other's work at the time.  Hynd named his approach or style "friction free" surfing, while I stuck to the unimaginative name of "finless" surfing.  Hynd was, and still is, an avid proponent of friction free surfing and had developed his own genre and surfboard designs.  We had worked on several projects together and were friends before I turned to GSI.  In a way we complemented each other.  For example, in two popular surf movies, "Musica Surfica" and "A Deeper Shade of Blue", I was the wood surfboard artisan who brought back ancient Hawaiian alaia surfing, while Hynd was the radical surfer who pushed his new designs in big waves and developed a new genre of surfing. Hynd was also a prolific surf journalist, advocating surfboards without fins, and soon he was castigating me for licensing my design to Global Surf Industries.  Our rift made it to the national press with Tim Elliott reporting in the Sydney Morning Herald;
Hynd now suggests that fins on boards may have been a distraction all along.  He also believes "we could be seeing the birth of a whole new sport."
But he is scathing about those he regards as having commercialised the finless movement, particularly Tom Wegener, who late last year licensed his design for a fibreglass alaia-style board to Global Surf Industries, which manufacturers them in a factory in Thailand.
"Tom has killed Bambi," Hynd told Liquid Salt surf magazine recently. "He has sold out to the 'crass mass.'"[i]
I had enormous respect for Hynd as a person, philosopher and surfer.  We had spent many good times with each other and were on the same page with our surfing and thinking.  I was wounded by his words and spent nights wondering exactly what he meant by "killing Bambi". I had a vague notion, but it did not seem to be a clear analogy for what I had done. 
From Chapter 25: Revisiting Global Surf Industries
Just as my time at the university is coming to an end, Global Surf Industries had a week of meetings between Mark Kelly, the sales team, international distributors and the surfboard designers.  It was the first meeting of this kind in 4 years. They used to be more regular before the global financial crisis.  I felt this was an opportunity to finish off my studies and this book. 
My job at the conference was to explain the albacore to the distributors so they can better sell the boards to the public. The distributors were from Korea, Japan, Brazil, the UK, France, Spain and Portugal.  I was one of four GSI designers at the meetings.  The others were Haydon Cox of Hayden Shapes, Richie Lovett who is now designing for 7S,  and Tom Carroll (3x world champion) who is designing his line of SUP boards.
Haydon started the presentation and discussed the history of his designs starting with the hugely popular board, the Hypto-crypto, which has sold tens of thousands around the world. Next he went into the new boards he has designed and how they surf and fit into the market.  Finally, he let us in on his latest project which was still in development.  He was very confident and up-beat in his presentation.  Later I spoke with Haydon about what he likes about GSI and he stated that income from GSI gives him the opportunity to create better designs for his surfboards.  His key motivation was to enhance people's surfing experience through creating better surfboards. GSI was helping him accomplish this.
Next was Tom Carroll's presentation and I was mesmerized and hugely impressed. He has taken SUP surfboards to a new level of design with innovative nose shapes and water flow aquadynamics. He has designed a wide chine under the rail taking most of the volume from the edge of the board.  This will let the board respond quickly yet still have lots of volume.  His boards are revolutionary and I believe that almost all other SUPs may soon be obsolete.  Mark Kelly said they will sell very well. 
The distributers were enjoying a real treat with these talks, as I was too.  Having these top shapers discuss their designs in depth is a unique experience.  It seemed GSI was supporting innovation.  It was acting more as a partner and patron to the surfboard artisan rather than a vulture company which wanted to destroy innovations or surfboard artisans.
Next was my talk and I started by discussing the history of the albacore.  I told them of the alaia journey and my trips to the Bishop Museum. I told them of the years it took to understand and develop the alaias to the point where they became popular.  I explained how the albacore came about as an attempt to make a board which surfs like an alaia but is buoyant and easy to catch waves. I reflected on how GSI was the incentive for me to create the new style of finless board. They had sent 12 big foam blanks for me to experiment with as well as promised to licence the board if it performed the way I said it would. I could not produce the boards in Australia and needed GSI to move forward with this new design. I felt like GSI was a patron for me as an artist and of this new style of finless surfing.
But then I changed tack and wanted to present the ideas stemming from my research and this book. I started by saying that this is historically the best time for surfboard makers and distributors in recorded history.  The variety of surfboard designs and surf cultures is far greater than it has ever been.  For example, just two decades ago there were no SUP surfboards nor finless surfboards.
The way people see themselves riding waves has been changing dramatically.  For example, when I was growing up I would pretend the buildings around me were waves and I would be surfing them. I would imagine riding the wave on a finned board which had evolved from the shortboard revolution.  The nose of the board was followed by the fin as it travelled through the water.  Now I see myself on a finless albacore drifting down the waves sideways and relating my surfing to the ancient Hawaiians.  My identity has changed as I have evolved with my surfing in the same way as countless other surfers.  We are enjoying new evolutions of surfing which affect and change us.  Collectively this is new culture being created.  Groups of people share a new set of surfing values.  This can be seen with the alaia riders, the hipster retro surfers and the new brand of SUP surfers, just to mention a few. Through surfboards we are creating change in people and creating new culture.  This is enormously valuable. We are influencing who people are and how they see the world around them. Many philosophers have stated that creating culture is the most valuable thing a person can do.
I singled out the distributor for Korea and said that he is probably not the same person he was before he started surfing and he is definitely different from the non-surfers he passes in the street in Korea. The distributor laughed and agreed.
This creation of culture from new genres of surfing is what keeps surfing alive and vibrant. There is a constant influx of new surfers and they are enjoying the evolution of surfing.  Our job is to help people enjoy the surf.  This is a great profession and it creates enormous value. It is creating joy for the surfer and a sense of fulfilment for us in the surfboard industry. I believe that GSI's mantra, "life is better when you surf," is accurate and that we are making it happen.  I feel good about my job and I am sure the distributors of GSI products do too.
My little monologue was well received and later caused further discussion and reflection even though the distributors also wanted to know more about the albacore and how it is made.  I felt that I had started my new crusade of sharing and appreciating our wonderful surfboard culture.
---
[i] (Elliott, Sydney Morning Herald, March 12-13,2011)
Order "Surfboard Artisans; For the Love" First limited edition
First edition Books are Available for pre-order.