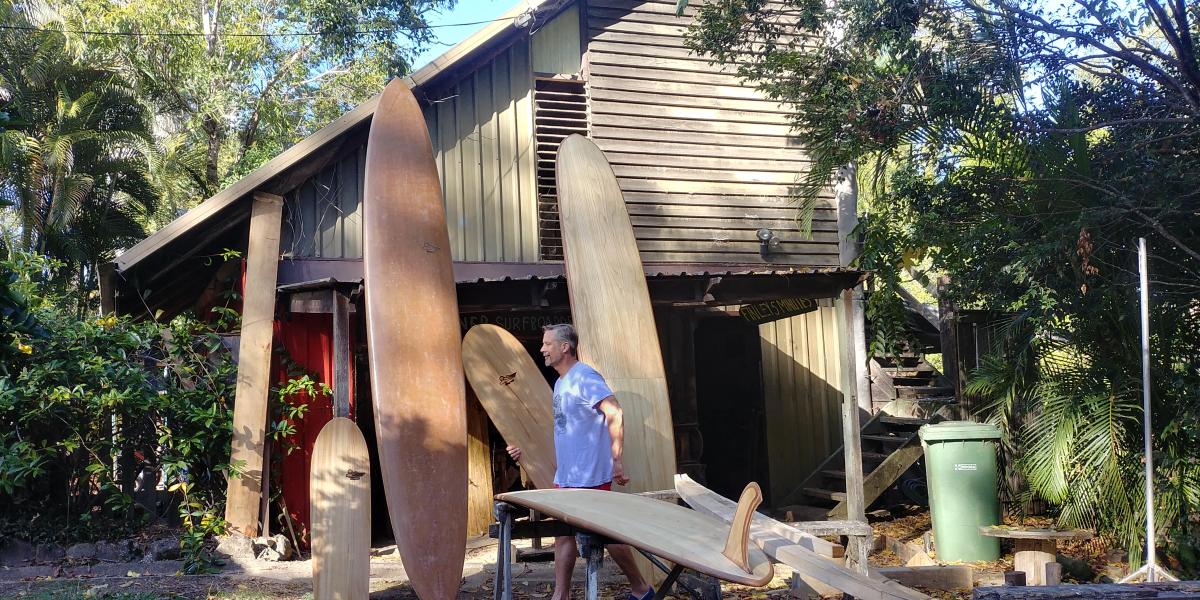 Tom Wegener Master Shaper
No one chooses to become a surfboard shaper. You certainly don't choose it for the money or the fame. Tom has dreamt of surfboards since a very young age and continues to do so. With an intense interest in surfboard history he has delved into every type of surfboard design across the decades (and centuries). Tom reignited the stoke of the ancient alaia. He has advanced the building of hollow wood surfboards and has created a new genre of finless surfing and several finless surfboard designs.  
Tom currently makes a very wide range of surfboard shapes from hand planes and bellyboards all the way across to 18 foot toothpicks and Olos.  It is the desire to understand and experience the stoke of surfing each craft which has brought Tom to a place of being a master surfboard shaper.
The Corky Method
Presently Tom is focusing on his "Corky" method for making surfboards.  The nose to tail strength of the boards is created from layers of paulownia veneer or from a paulownia stringer. The boards are shaped from Extruded Polystyrene foam (XPS). The cork is glued to the deck and to the rails to give the boards a covering which is soft yet resistant to dings. Tom feels that these are the best surfboards he has experienced to date.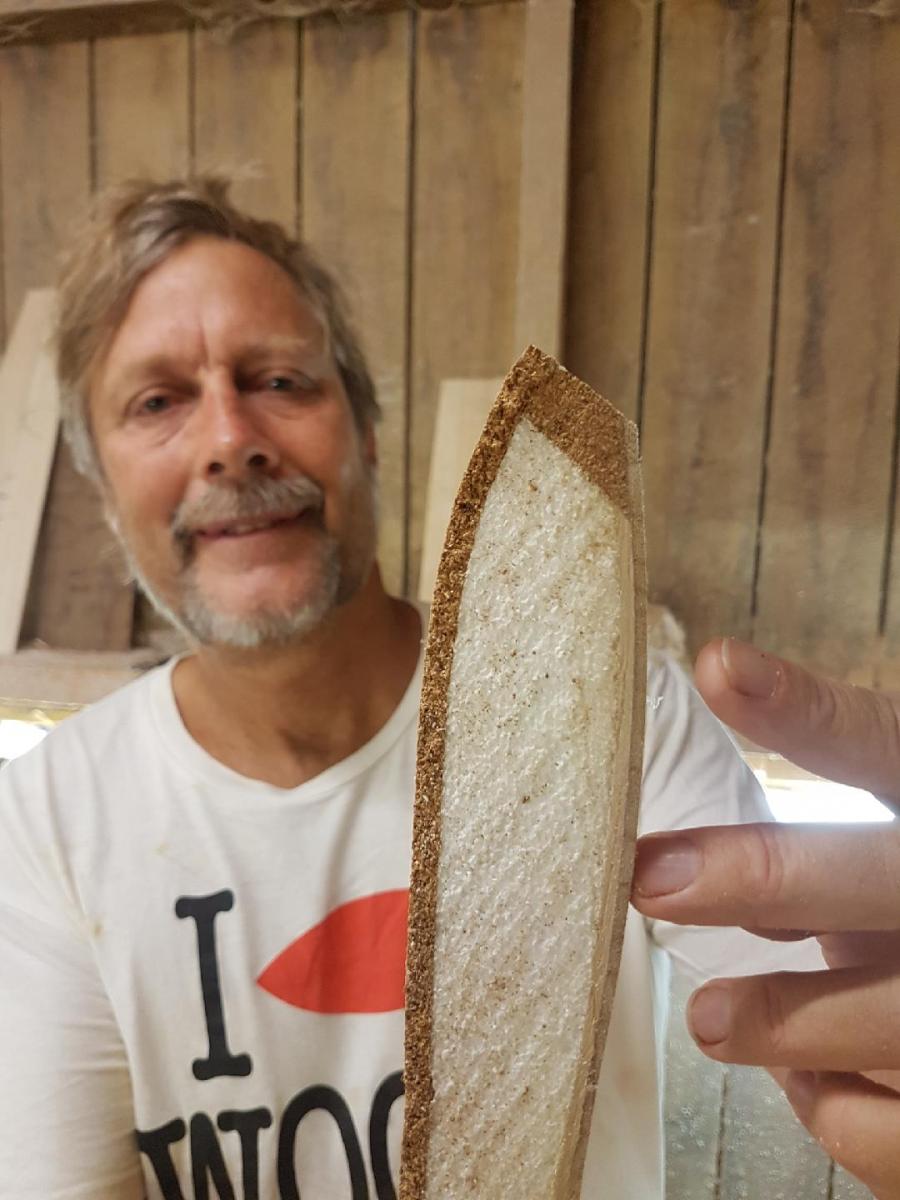 The corky project came from a 9-year journey to find a design method which allows surfboards to flex yet not buckle, nor lose their rigidity over time.  The goal was to create a board which flexed like an alaia yet is buoyant.  Flex is an essential element for Tom's finless surfboards and bellyboards. 
Tom found that the construction of the corky finless boards could be applied to other boards. The primarily wood construction brings a wood feeling to the ride. Tom's longboards; the Model A, Signature Model and Sunday 12-footer, have a lively, positive bounce as they trim across waves.  It is like surfing on a trampoline as the board flexes and reacts to the energy of the wave.  With the mid-length boards like the fish and eggs, the flex patterns of the board can be altered to suit the surfer.  For example, some people like flex in the tail for tighter, springier turns.
Tom has a key principle in his surfboard designs which is the boards must be as green as possible. The first aspect of a green surfboard, according to Tom, is that the board must not be toxic to kids making the boards in their garages or back yards.  Tom hopes that people around the world will make their own surfboards with his methods.  The materials are safe to use without a gas mask, unlike fiberglass and resin boards, except for the small amounts of epoxy needed to set fin boxes and leash plugs.  The paulownia shavings are not harmful nor the dust from the cork and foam.  The varnish is water based and made to be safe and the glue is a very common wood glue.
The other green principles are that the boards must surf good and must last for several years. The Corkys tick these boxes.  Also, the corky boards can be refinished with new cork or reshaped and become new again.  Once Tom was asked, "how do you become a successful innovative surfboard builder?" Tom answered (semi-sarcastically), "All you have to do is invent boards which surf better, are lighter and cheaper to make than the current boards, and then get the best surfers in the world to endorse them." The corky is meeting these criteria.
Overview of Tom's Surfing Life
Tom was born in Redondo Beach, California in 1965 and grew up in nearby Palos Verdes.  This area had been the centre of California surfing for a long time.  George Freeth taught surfing at Redondo Beach in 1905 and the music band the Beach Boys went to Redondo Beach High School.  The Palos Verdes Cove was California's most popular surfing break in the wood board era and was the home of Tom Blake for many years. Tom seemed to have picked up on this early California surf culture, though it had almost vanished by the time he started surfing.
Through Tom's high school years, he watched the shortboard revolution impact surfing and he saw how the designs of boards changed from year to year. However, Tom gravitated to the 1960s longboards which had become nearly worthless by then.  On one hand he surfed and understood the direction of modern surfboard design, while on the other hand he learned the history of 1960s longboarding design and where this genre left off in 1968 to 69.  Most importantly, he found a love for wood surfboards which began by surfing three Balsa boards he restored from the 1950s. The wood boards seemed to bring a heightened surfing experience.
Tom started shaping and glassing in 1978 in his parents garage.  Early on, Tom became frustrated with the fumes and mess of glassing and especially frustrated with the limitations on designs set by the availability of surfboard blanks. For example, Tom wanted to make traditional longboards but the blanks had modern lifted rockers, and he wanted to make 12 footers but these blanks were very hard to find. (Thirty-five years later Tom finally overcame these obstacles with the corky method).
Surfing with Donald Takayama
In 1985, Tom moved to San Diego, California and became immersed in the resurgence of longboarding.  Tom became a Team Rider for Donald Takayama and was introduced to Donald's world of surf culture. Although he learned much from Donald's surfboards, it was Donald's personality, generosity, charisma, aloha and worldview which mostly influenced Tom.  Donald instilled values which had surfing at the centre of very rich social life.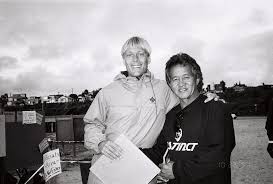 Competition Surfing
This was the era of the longboard club contest. Longboard clubs had sprouted up and down the California coast and each had enormous pride in their annual surf contests. There were almost no prize money, sponsorships or world champions, however, they were competitive none the less. The surfboard shapers like Takayama, Bill Stewart, Bob Pearson, Steve Walden and others, had little tribes of riders who advocated a certain genre of surfing and who would travel to the different contests weekend after weekend.  Without big money or a homogeny of a certain style, the future was up for grabs.  It was a vibrant time for longboarding. In 1990 Tom reached his peak in competitive surfing winning seven contests in a row including the Salt Creek club, Ocean Beach club and Cardiff Clean Ocean contests.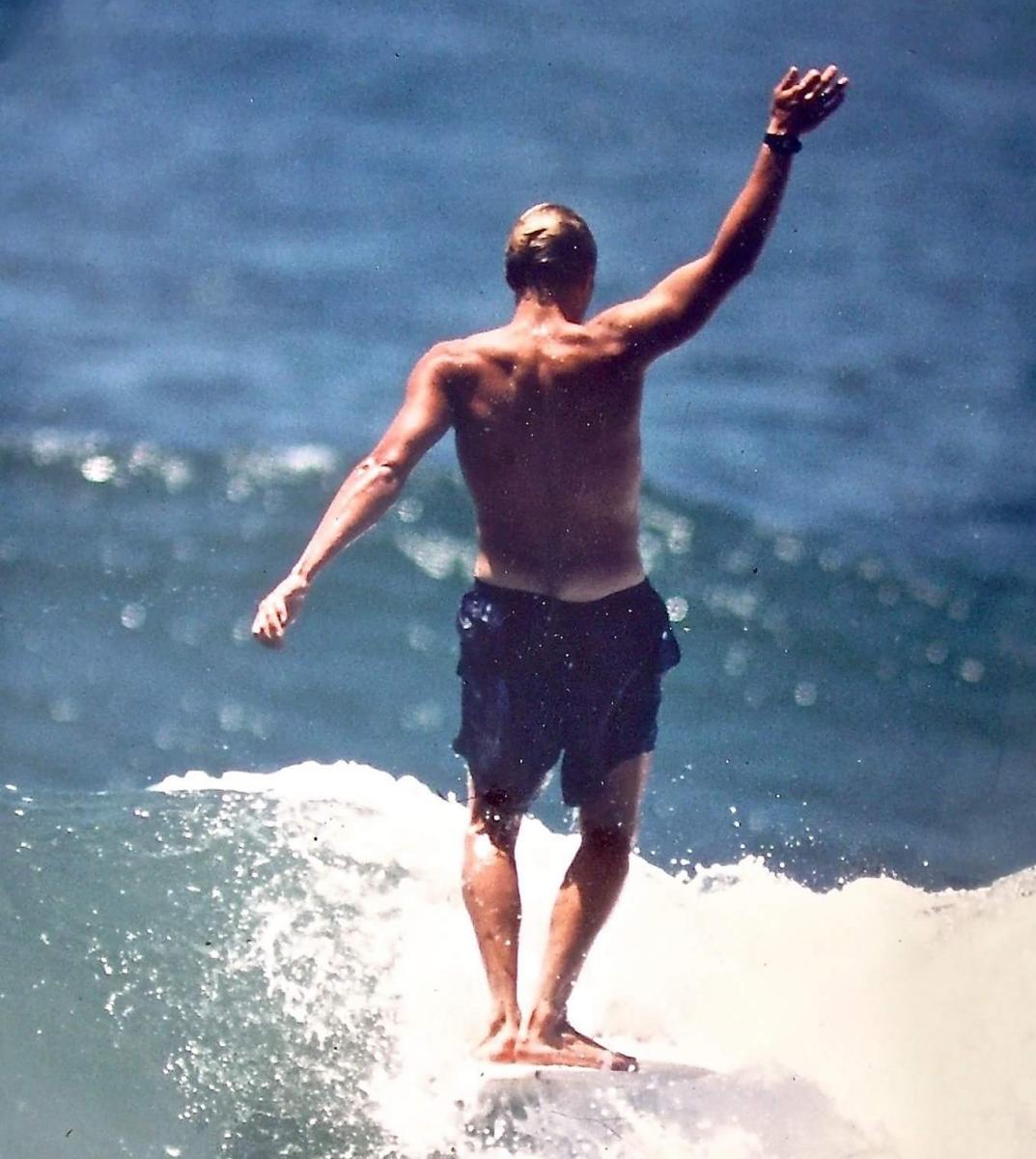 First Book, Southern California's Best Surf
Tom and his best friend Bill Burke were amateur meteorologists and loved the science of surf prediction.  The key information back then came from buoy readings and satellite photos.  They kept weather reports in boxes along with records of the surf which was produced. They got pretty good at finding surf and decided to write a book explaining how to predict surf and read the elements to find the best surf. in 1989 they self-published Southern California's Best Surf.  The book did will and sold all 6000 copies in a few years.
University
Tom Graduated from UCSD with a BA in Philosophy and minor in Anthropology and then graduated from USD School of Law in 1989.  He passed the California State Bar in 1990. Tom practiced law in San Diego from 1991 to 92 specializing in Occupational Health and Safety and Hazardous Material Regulations.  In 1992 Tom was elected as the Executive Director of the Surfboard Industry Association.  Tom wrote a program for helping the surfboard manufacturers comply with the industry regulations. From 1993 to 94, Tom went back to LA to practice law with his father.  It was great to work with his father, but he realized that he did not want to practice law. 
First Surf Movies and Waterman TV
In 1994 Tom with long-time friends Bill Burke and Dan Wozniak, finished their surf movie, Ten Toes Over. It was shot on super 8 film and the sound track was recorded live onto the magnetic stripe on the film. It was a pretty good film highlighted with some genuine nuggets and carried by a great sound track.  After touring Southern California, Bill Burke and Tom went on to bring it all the way around the United states; from Texas to Florida and all the way up to Maine.  Tom found a new love of making movies.
Upon returning to California, Bill and Tom started a local TV show; The Waterman TV.  It played in Santa Barbara, parts of LA and North San Diego County.  The shows were camp and rushed, but, at the time, it was the only way surfers saw locally made content.  Tom was humbled to find years later that many groms like Robbie Kegel, Cyrus Sutton, and Chris Del Moro were inspired by the show to do their own things in surfing.  Bill and Tom made a total of 36 shows and 72 advertisements.  As Bill and Tom were burning out on the very hectic show schedule they had created, Dan Wozniak ask them to make a new 16mm surf movie about going through Mexico.  Bill had family obligations, but Tom took off to Mexico.
The filming of Siestas & Olas went off in perfect surf conditions (opposite to Ten Toes Over) and the movie captures the stoke of traveling through Mexico in the mid-1990s.  It was amazing! 
Upon returning to California Tom had several months to wait while Dan edited the movie.  Tom made two movies; one from the Waterman TV footage called Toes Across America and one documenting the summer of 1996, The Bare Butt Adventure.  Tom also Joined forces with his brother Jon to create Wegener Surfboards.  The new business was looking very promising with a fantastic distribution agreement in Japan, until the Yen Crashed in 1997. Tom did odd jobs in the surf industry until Siestas and Olas opened to sell-out crowds and great reviews in the top magazines including Review and Variety. Steve Pezman, of the Surfers Journal, penned it was the "best surf travel movie since Endless Summer."  Tom Travelled with the movie around California with Dan and Australian cameo surfer in the movie Marc Kavanagh.  Marc went on to organize a tour of the movie in Australia and in February 1998 and Tom headed down under to continue traveling with the movie.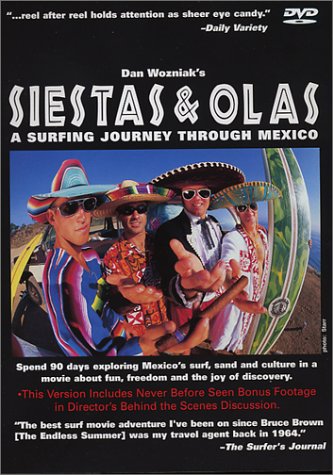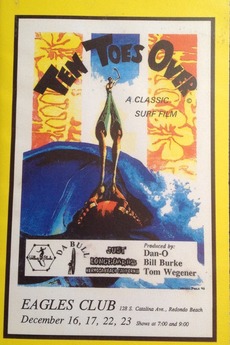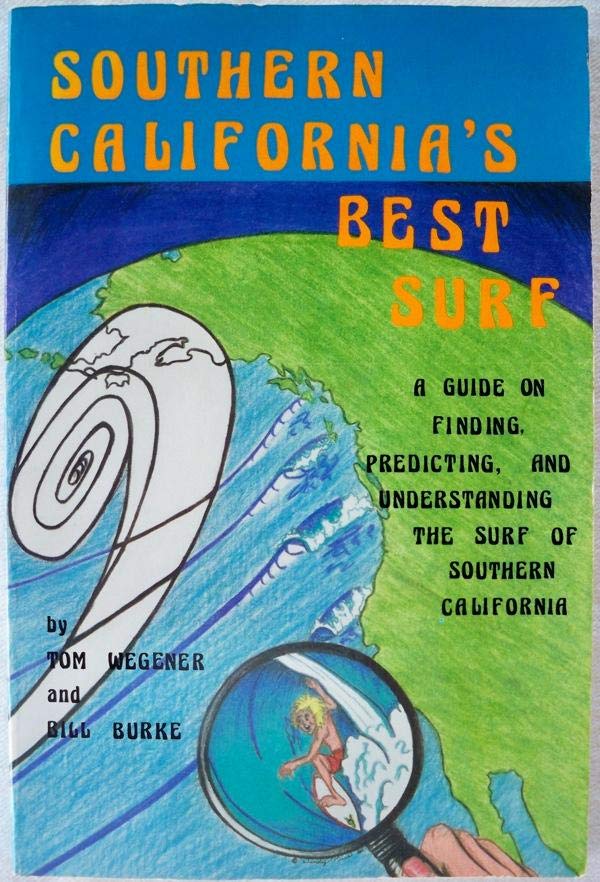 Moving to Australia
In Australia Tom found a country, values, and a way of life which seemed to be the same as America had been 80 years earlier.  There was a sense of freedom and space which had been swallowed up in the states in the years since Tom was a child. Tom married Margie Hugh and soon had two children, Finley and Sunday.  Tom started making his traditional style longboards in Noosa Heads where they lived. 
Tom wanted to make traditional style longboards like he had in California, but the blank manufacturers only had moulds for progressive, narrow tailed longboards.  Once again Tom was limited by the blanks available to him.  Luckily. Paul Joske had introduced Tom to paulownia wood.  Paul had been commissioned to make a hollow paulownia longboard by the paulownia growers to help bring attention to the new, booming plantation timber.  Tom surfed Paul's board and it reminded him of how much he loved surfing the balsa boards twenty years earlier.  Tom found that if he used a one or two-inch-wide stringer in the narrow blanks, he could get the width in the tail to make his noseriders. Tom had plenty of orders as a new wave of interest in traditional single fin longboards trickled through Australia.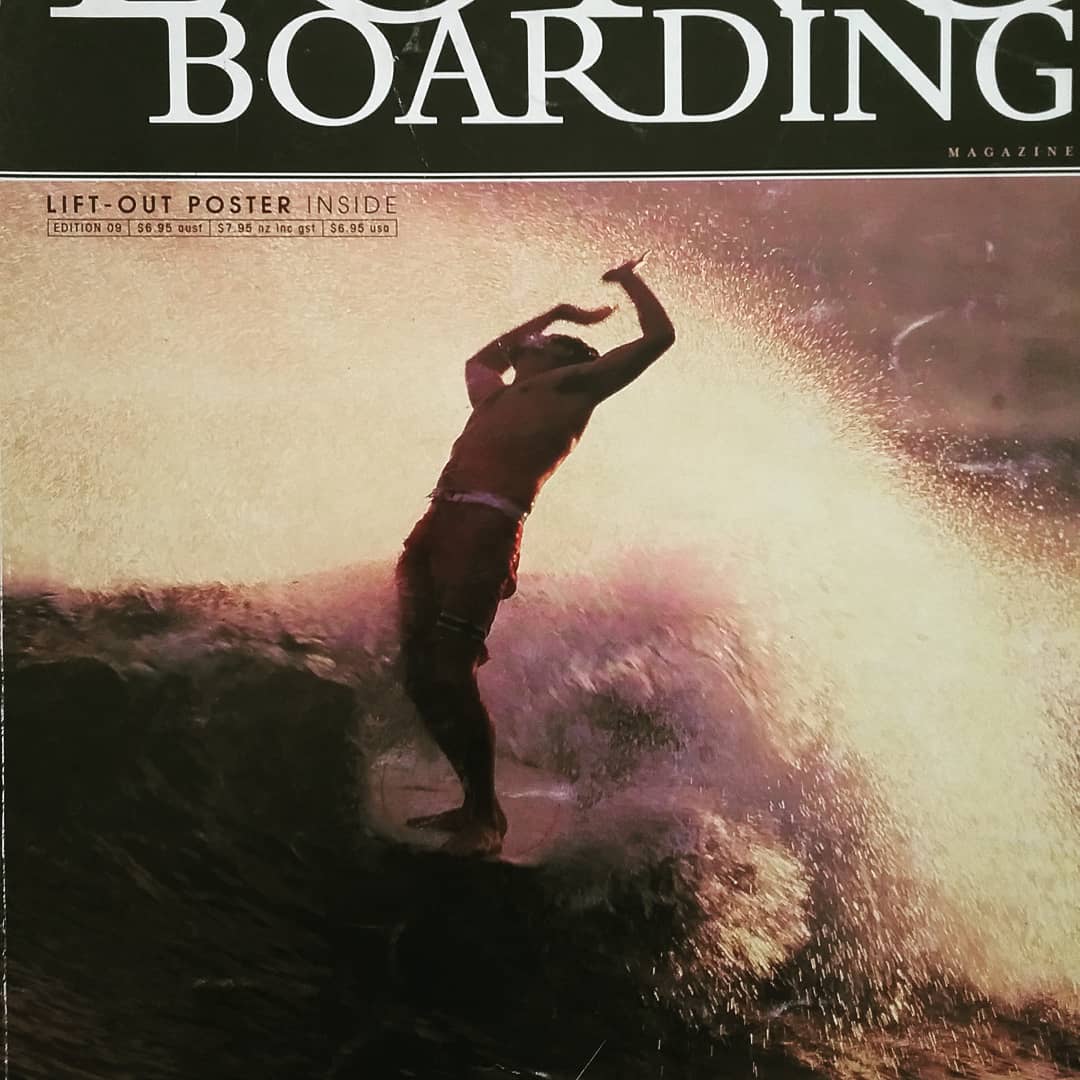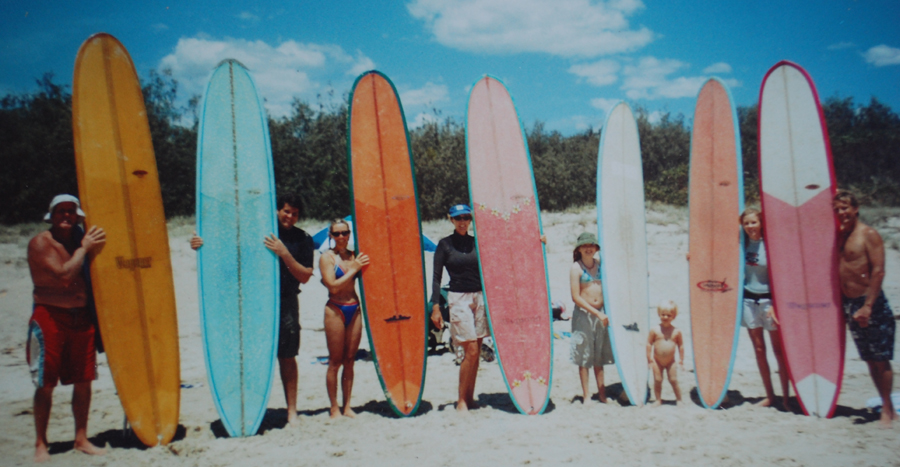 Discovery of Paulownia
While surfing the boards, Tom noticed that the paulownia wood had one very unusual quality; it did not absorb salt water.  Tom made fins and nose blocks from paulownia and when these were cracked the wood would not absorb salt water.  With Balsa or any other wood Tom had used in surfboards, the wood absorbed water and cracked the glass leaving a messy situation. The paulownia did not absorb salt water. Tom quickly realized that paulownia was an amazing wood for surfboards.  Twenty years on, paulownia is the most popular wood for surfboard construction in the world.  
Hollow Wood Surfboards
Tom's factory was just meters from his house and he began to worry that his kids may be affected by the chemicals involved in the glassing process.  When Finley was three years old he said, "Dad, your breath smells like resin."  Tom decided that he would put all his effort into making hollow wood surfboards where glassing was a much smaller element of the board. It took many late nights of hard work and some lucky breaks with paulownia suppliers to finally make a revolutionary new surfboard construction method from wood. Tom milled and glued large, raw lengths of paulownia into sheets which he then cut and pieced together like a three dimentional jig saw puzzle.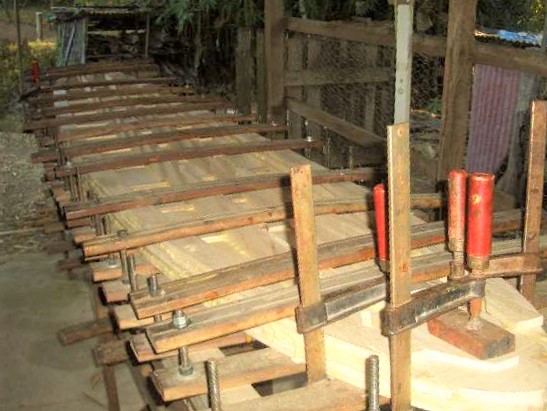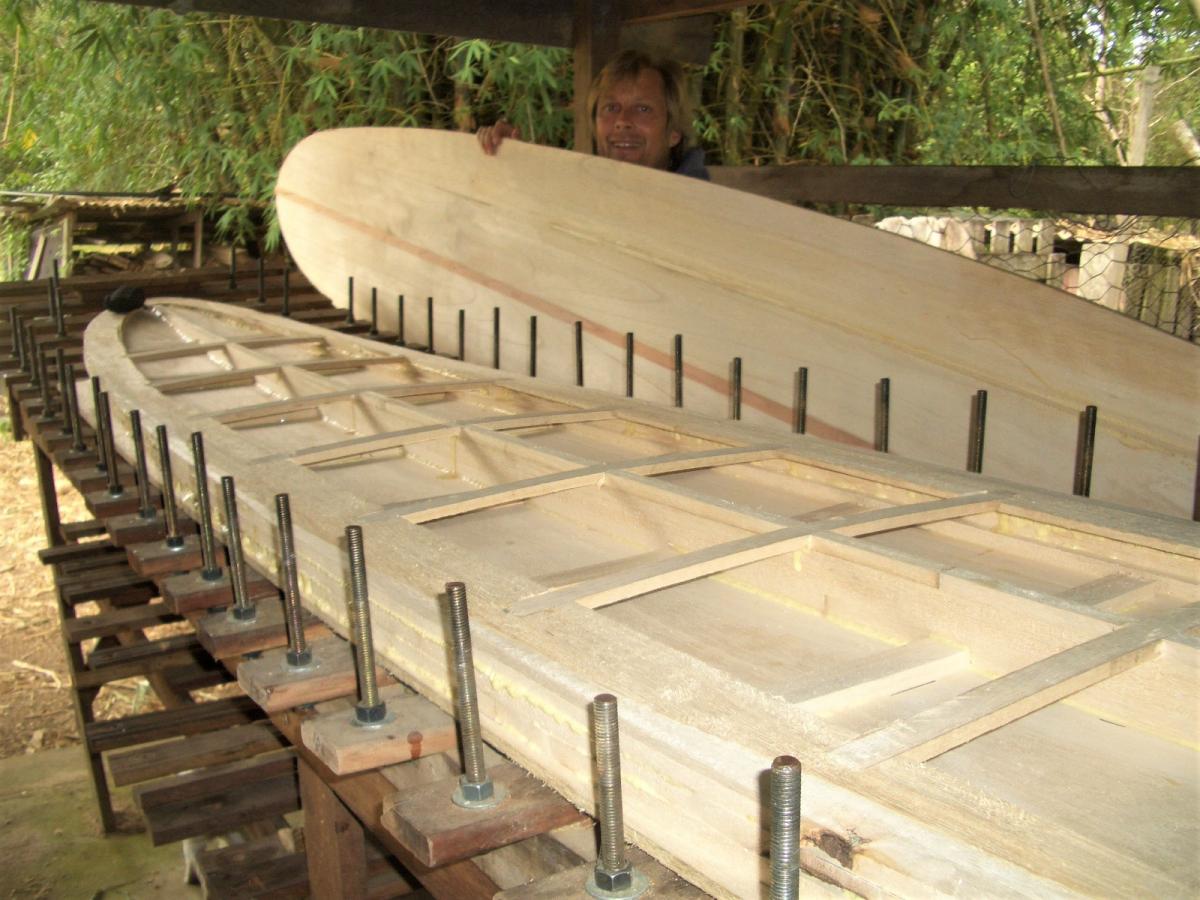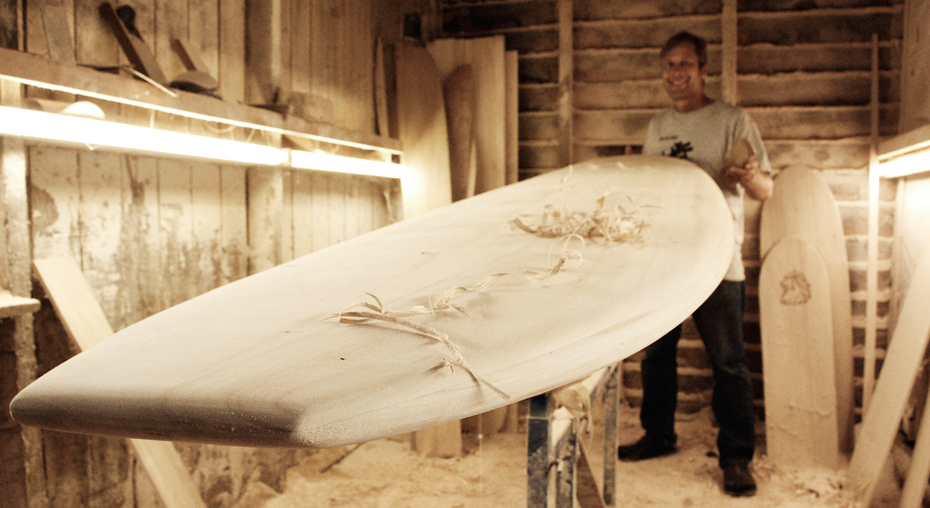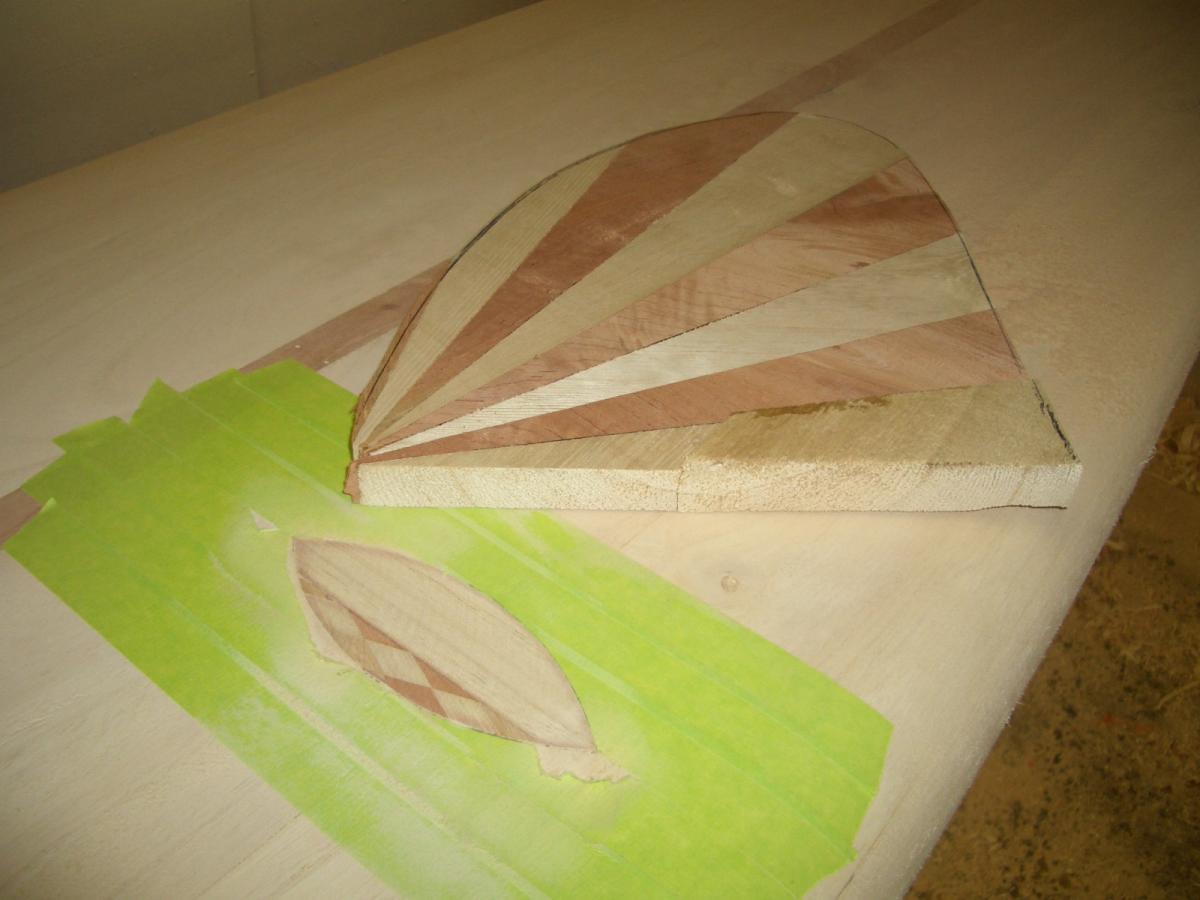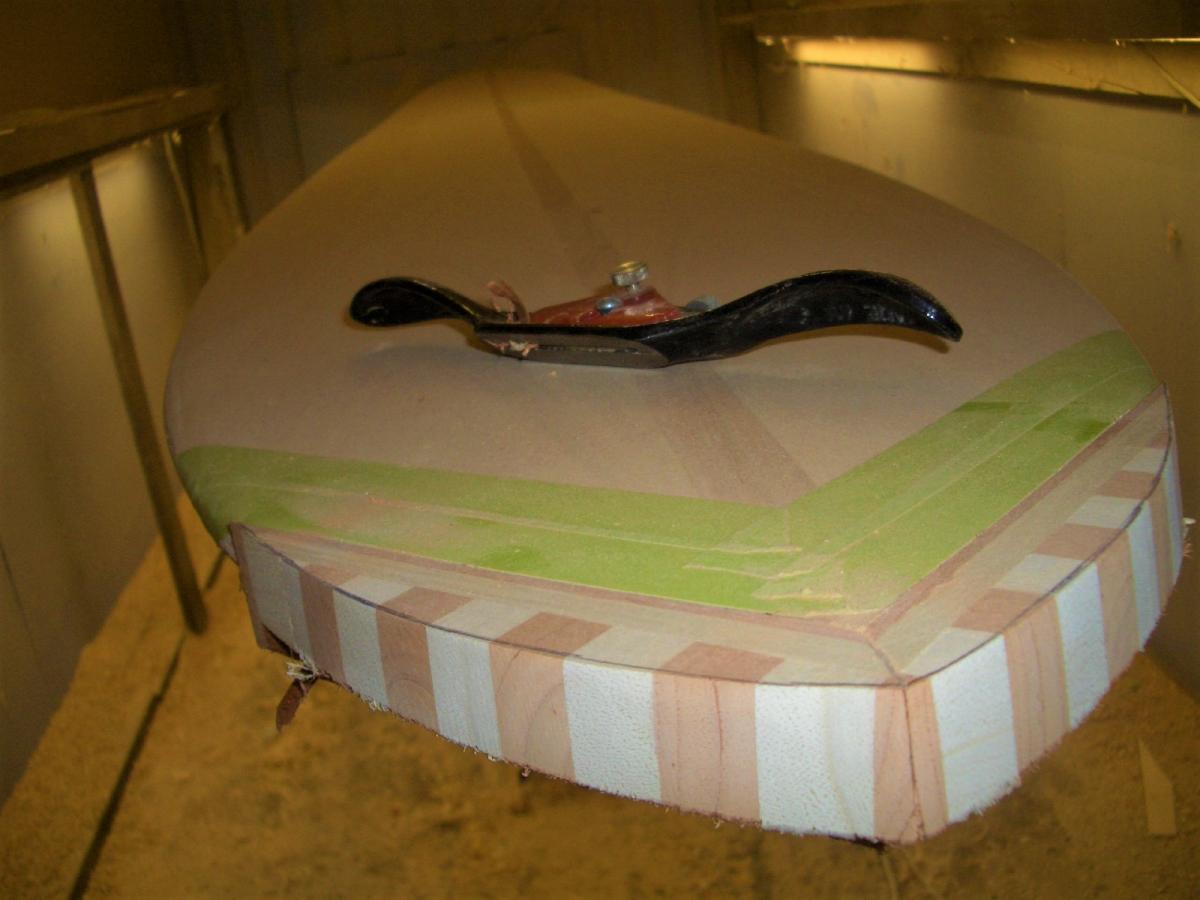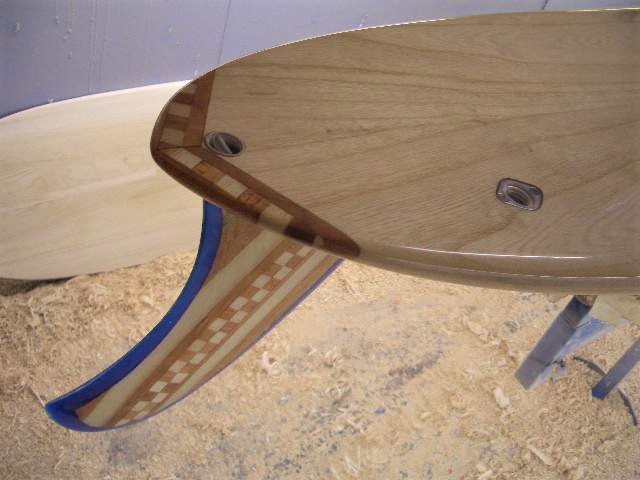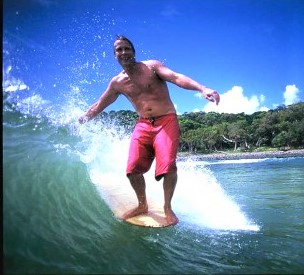 Tom's process for making wood surfbaords was about pressing sheets and pieces of wood into a rocker jig.  The rails were glued in place, then the stringers, bottom supports and solid area for the fin were all glued in while the board was in the rocker jig.  Then Tom had a separate router table for leveling off the deck of the board and making it smooth.  Deck supports were added and then the deck was glued on. Tom then shaped the board with little worry of going to far into the air in the center. He then put nose and tail blocks on and a name plate.  The fin was made to match the board.  Tom glassed about 50 of these boards before bringing them to be glassed at Paul Carson's factory. Tom made four jigs; the noserider/model A, 12 foot Sunday, the fish and the big 18 footer.  Tom made over 250 boards in these jigs before the global financial crisis and the modern/hipster/traditional longboards left this genre to fade into the past.
Tom's boards and story were documented in two top movies, Nathan Oldfield's Lines from a Poem and Thomas Campbell's Sprout, as well as a 12-page Surfers Journal article by Phil Jarratt. It is a highlight of Tom's life that he was able to make a greener alternative to foam surfboards.  Soon the wood surfboard business was booming.  In 2004, to celebrate the success of the wood boards,  Margie planned a trip to Hawaii to surf the boards at Waikiki just as the Duke and Tom Blake had done many years earlier.  It was an amazing trip finding their roots in surfing and spending time on Waikiki Beach with old friends Donald Takayama, Rabbit KeKia and others. 
Tom's 40th birthday was less than a year away and for this celebration he wanted to make a replica of the ancient 16 foot olo surfboard which was housed in the Bishop Museum in Honolulu. Surfing used to be known as the Sport of Kings and this was because only Hawaiian Royalty could ride the long olo surfboards at Waikiki. Through a series of lucky, serendipitous events Tom was allowed to go into the back annex of the museum and template the ancient surfboard as well as check out the ancient alaia surfboards. Tom was amazed ty the perfection of the workmanship, the flawless flowing curves, and the foreign sets of aquadynamic in the shapes of all the boards.   He said, "it was like meeting aliens."
Alaia and Olo Surfboards
On March 5, 2005, Tom's friends and family were celebrating his birthday, enjoying the surf at Nationals in Noosa.  The surf was waist to shoulder high and breaking down the point.  Tom had finished the olo and had also made a 10'4 alaia/Waikiki plank board.  The surf was not big enough to properly ride the olo, however, Jacob Stuth caught a jaw dropping wave on the alaia which nobody could believe at the time.  They thought Jacob was bound to slide sideways into the rocks on the long finless surfboard, but instead, he cut across the wave with far more speed than a finned board would have.  Tom was reminded of how he felt when he first saw the ancient boards, how mysterious they were, and now felt that a new door in surfing had opened for him.
Tom was determined to master the great olo surfboard. For months he would search for large slow rolling breakers which mimicked the Waikiki style surf for which the board was designed.  Some of Tom's later health issues may be reflections of this time. After being humbled many, many times, Tom's persistence paid off when he pegged one good ride in front of Nathan Oldfield's camera.  Tom says it was well worth the effort.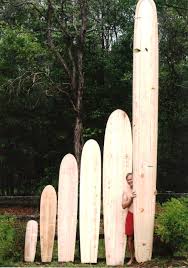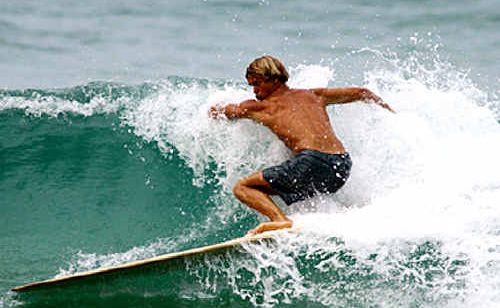 This video is a compelation of three clips from Nathan Oldfield's masterpiece "Seaworthy"
This video captures a great time for Tom.  He made it because it seemed so much was happening in surfbaord design.  Tom had pushed the length of fun boards out to 18 to 20 feet, while the alaia refolution was in full swing. This was shot a week after the Noosa Festival of Surfing in 2009.
The alaia was the far more user friendly than the olo and for the next few years Tom and a small group of friends including Stuth, Matt Williams (Tom's apprentice), Jon Wegener, worked feverishly on understanding the dynamics of ancient alaia surfing.  Soon Thomas Campbell came on board as a patron and started sharing alaias with the world's top surfers.  By 2008 Tom was making alaias for the likes of Tom Carrol, Tom Curren, Rob Machado, David Rastovich, Dan Malloy, Chris Del Moro, Harrison Roach, Mike Stuart and many others.  The boards were celebrated in the press and featured the movies; Campbell's The Present, Oldfield's Seaworthy, and Jack McCoy's A Deeper Shade of Blue, Mick Sowry's Musica Surfica and Cyrus Sutton's Tom's Creation Plantation. In 2009, Tom was awarded Surfing Magazine's Shaper of the Year.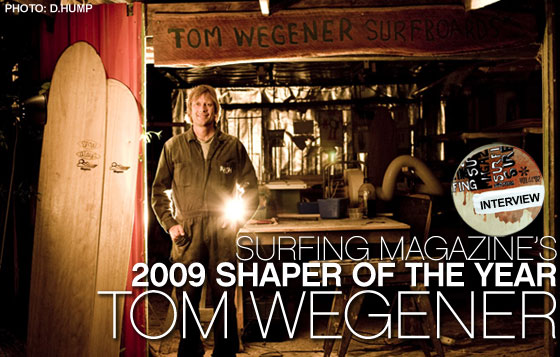 Toothpicks and Bill Wallace
One side project which Tom had been working on since 2004 was surfing and understanding the long 12 to 18-foot plywood toothpick surfboards.  They were originally designed by Tom Blake and were the dominant surfboard in Australia from the late 1930's to the mid-1950s.  Tom had come to know old Bill Wallace, who was the greatest toothpick builder of them all, and would spend afternoons talking surf history with him and enjoying his moonshine. Tom learned to build toothpicks from Wallace (Rest in Peace) and is now the custodian of his templates and tools. Tom was able to link ancient Hawaiian surfing to Tom Blake, who set surfing in a new direction with light boards and fins, to Wallace in Australia who greatly refined the toothpicks.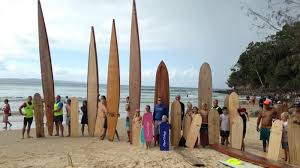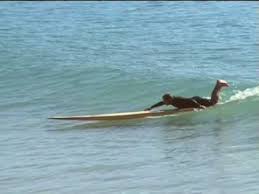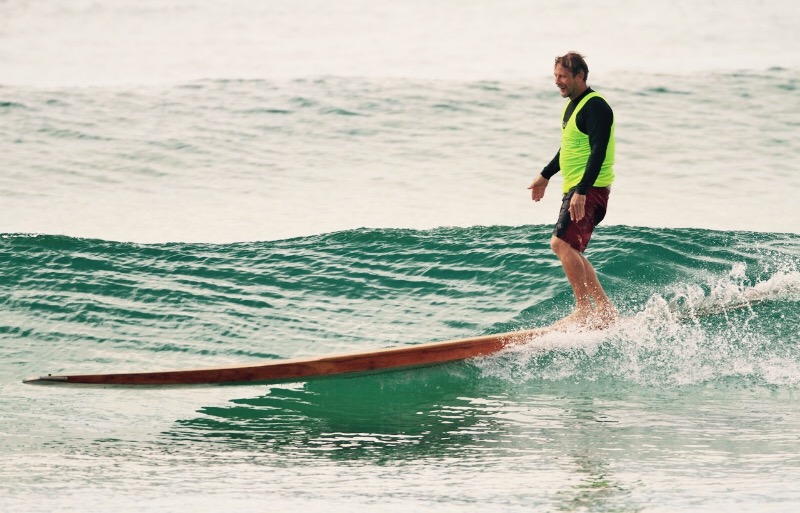 Linking Eras of Surfboards
Linking eras of surfboard designs together has been a focus for Tom.  He wants to be able to see surfing through the eyes of his predecessors.  He wants to experience the excitement the old crafts because that stoke has made surfing what it is today.  Tom went to surf in Kona and Waikiki on replicas of ancient boards to understand what the ancient experienced as well as understand the transition to the longer, hollow boards of Blake. He surfed the flat balsa Malibu chips and felt the transition to the Velsy Pigs.  He studied the transition from the balsa longboards to foam and transitions to the big wave guns and to the small wave noseriders.  Every board has a story to tell.  Every board comes from earlier inspired shapes and surfboard artisans striving to make better surf craft. Each era has something exciting and unique to offer.  Tom often says that if he had only two surfboards, one would be a 5' alaia and the other would be a toothpick.  The alaia gives the closest, most intimate surfing experience with the wave.  The toothpick has the best glide and earliest entry into a wave. They are at opposite ends of the rainbow.
Bellyboards and History
Another big part of Tom's surfboard world is the bellyboard.  As a toddler, Tom surfed boogie boards strait towards shore and didn't get off until stopped on the sand.  He never forgot the stoke of the simplest ride.  Tom feels his main calling is to help people catch their first wave. The stoke on a person's face as they connect with the energy for the first time is a beauty to behold.  When Tom made replicas of the ancient Hawaiian bellyboards and surfed them, he wondered why everybody was not riding them; they are so much fun!!!  Soon he learned that people all over the world had been riding similar wood boards for a very long time.  He learned the long history of wood bellyboarding in the UK and South Africa with Sally Parkin, owner of Original Surfboards.  Tom learned about the very long history of wood bellyboards in Japan with Nobby of Nobby Wood Surfboards.  He made wood surfboards with Papua New Guineans who had been making them the same way for a very very long time.  Tom says surfing truly starts on a little piece of wood. While the world's surfing press was focussing on the stand up alaias, Tom was equally focussed on developing his small wood bellyboard he named the "surfie." Tom has rides his surfie far more than any of his other shapes. He is no longer concerned with promoting this board to the mainstream.  It is more of a secret for those how ask.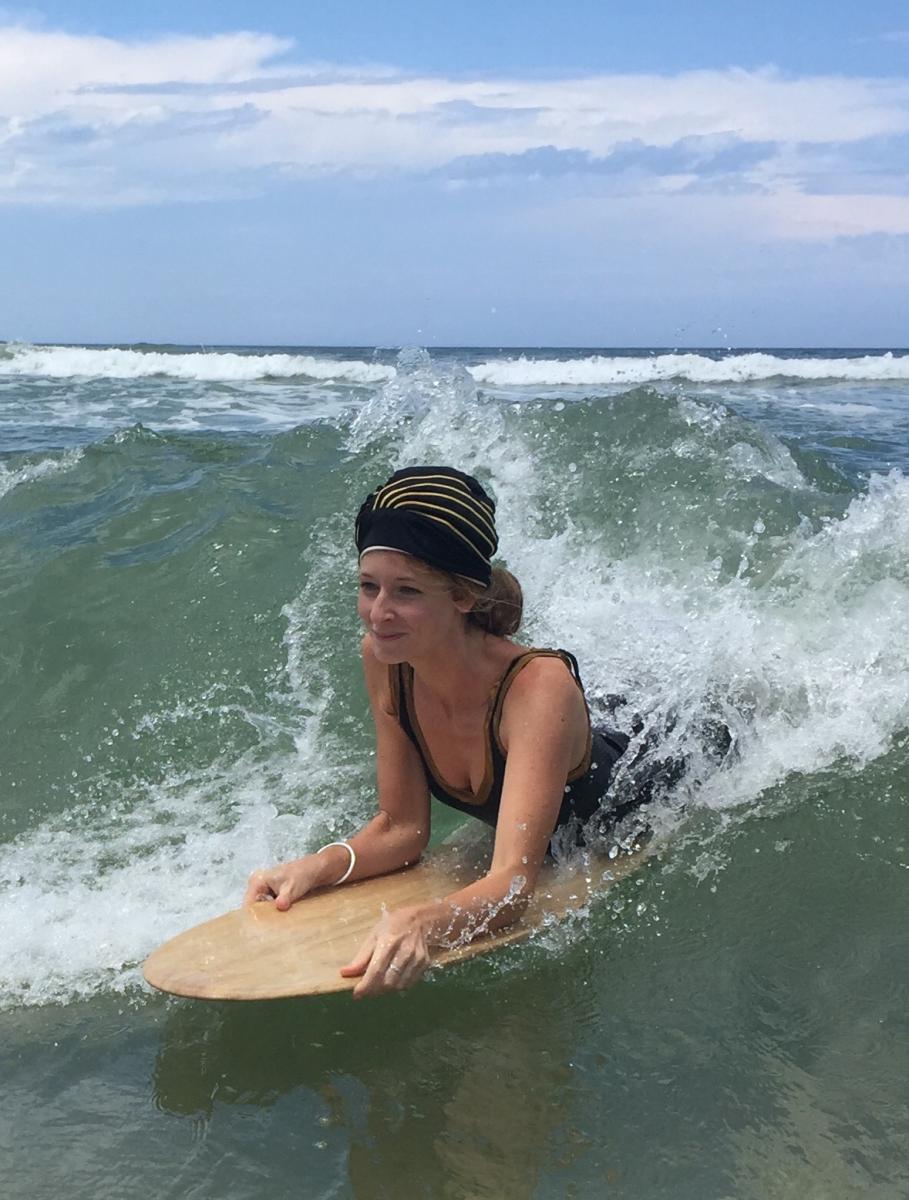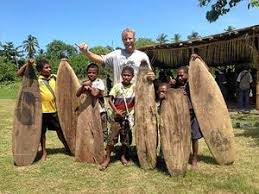 The Seaglass Project and Albacore
Now, back to 2010, when Tom looked to continue the alaia journey to modern materials.  The wood alaia is amazing once they have caught the wave.  However, paddling and catching waves on the thin wood alaia is difficult.  Few surfers can do it.  Many customers who purchased his alaias probably never got to their feet.  Tom wanted to share the ancient Hawaiian feeling of surfing with more surfers and the way to do this was by making the boards more buoyant.  The use of dense EPS foam seemed to be the starting point, but this was not yet manufactured in Australia.  There seemed to be a block in the way of taking this design forward.  Tom turned to Mark Kelly, the owner of Global Surf Industries, for help. Mark said that If Tom could design a board which will surf the way he says it will then GSI would license it.  Then Mark organized 12 big dense EPS foam blanks to be delivered to Tom's factory free of charge.  
From October 1009 to April 2010, a fury of finless development too place.  Tom and his cohorts Matt Williams and Isaac Blythe made and tested many versions of the same basic alaia shape in numerous types of foams and woods.  They developed as system of principles which explained how the board worked and refined board after board.  Sometimes Tom would shape a board from the dense EPS foam and surf it without glassing or varnish.  The super flexible board would work great - for one wave - and then break.  The board would be put back together and then glassed and surfed some more before breaking again.  The goal was to find the best flex within the parameters of the possible materials.  After about 27 prototypes, Tom made the final two master copies to be sent to GSI and Margie named the boards the Seaglass Project. The first boards by GSI were the glassed Seaglass Tunas which were still a little too difficult for most surfers to enjoy.  The second boards to come out were the Seaglass Albacores.  They were soft tops and much easier to surf.  These boards are still for sale through this website. After 9 years now, Tom believes the albacore is still the best finless surfboard available.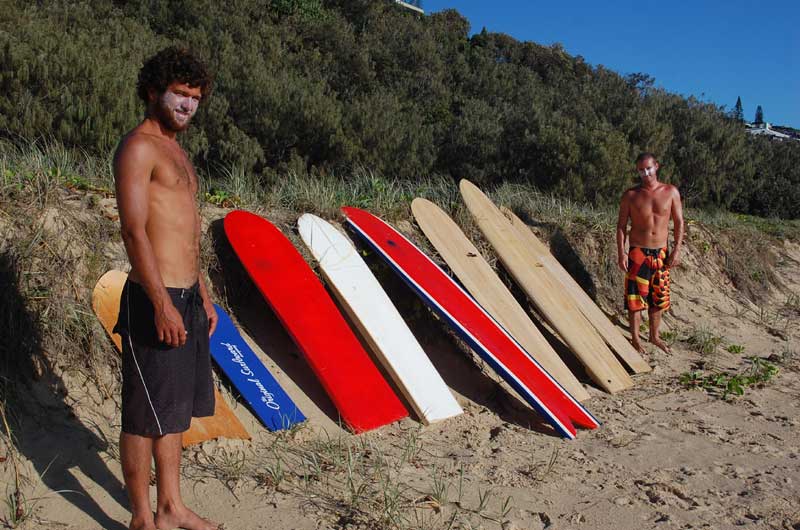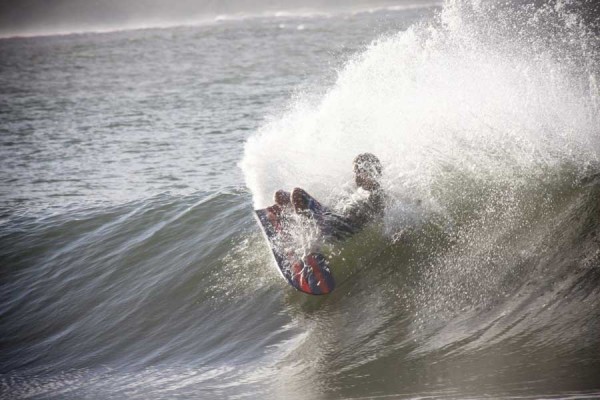 PhD and Book, Surfboard Artisans For The Love
The years from 2011 to 2013 were fairly flat years for Tom.  The global financial crisis had taken hold in Australia and locally made surfboard sales slumped.  The high Australian dollar was detrimental to exports while it made imports cheaper.  Tom wondered if the Australian surfboard industry was going to survive in the globalized environment.  He approached the University of the Sunshine Coast and enrolled in a PhD program to study the problems facing the industry.  However, Tom's focus changed in 2015 when the local surfboard industry mysteriously revitalized.  In fact, there were more board builders in Noosa than before the financial crisis.  Tom focus turned to why the surfboard industry was so resilient and quick to bounce back when many other industries did not, ie the Australian auto industry.  Tom self-published his findings in his book, Surfboard Artisans For The Love.
After the university experience and selling his book, Tom had a clear understanding of the very high value the surfboard artisan has in society.  He felt a new fire inside to make surfboards.  In 2017, Tom found there was a new Australian source of super dense EPS and XPS foams and started on a project to improve on his albacore with his new "Corky Method." With the help of Boatcraft Pacific and genius chemist Bruce McConky, Tom was able to source the products needed for the project.  It all worked out better than expected and the way for making corky versions most of Tom's boards.
What next for Tom Wegener?
Tom is very aware of his mortality. He will be 54 years old in 2019. With some physical ailments, he knows he will have to focus more and more on staying healthy.  Tom and Margie have amazing gardens, orchard and a wonderful vetegable patch and spending more time there is high on the priority list. Tom sees his value not as a production surfboard shaper, but teacher of surf culture, history and surfboard design. Since 2017, almost all the boards Tom has made have been through the Wegener Surf Stay and Tom has enjoyed the direct contact with the custormers.  Tom has been most excited about teaching the corky method and now some of his customers are making these boards in Hawaii, New Zealand and Taiwan. Tom is happy to teach all he knows and he says, "I am too old to have secrets." Tom's goal has been to have a full yet easy to manage order book and calendar.  He seems to have made it.  
Wegener Surf Stay
Margie Wegener has always been the driving force behind the scenes at Tom Wegener Surfboards. Over the years many surfers and surfing families have stayed at the Wegeners and Margie has always enjoyed taking care of them. She may be the reason they stuck around so long and did so many projects with Tom. Her hospitality is legendary. Customers are now invited to take part in a homestay experience with the Wegener family, while they make their own surfboard. Margie looks after all your personal needs, with great meals and home style accomodation, while Tom shares surfboard design and history, instructing you to make your very own surfboard, with your bare hands. Enquiries welcome. 
Further Movies on Tom Wegener
In 2018, Photo Journalist Dean Saffron made a short movie on Tom for the National Libraries.  The film won the best short film at France's Anglet Surf Film Festival.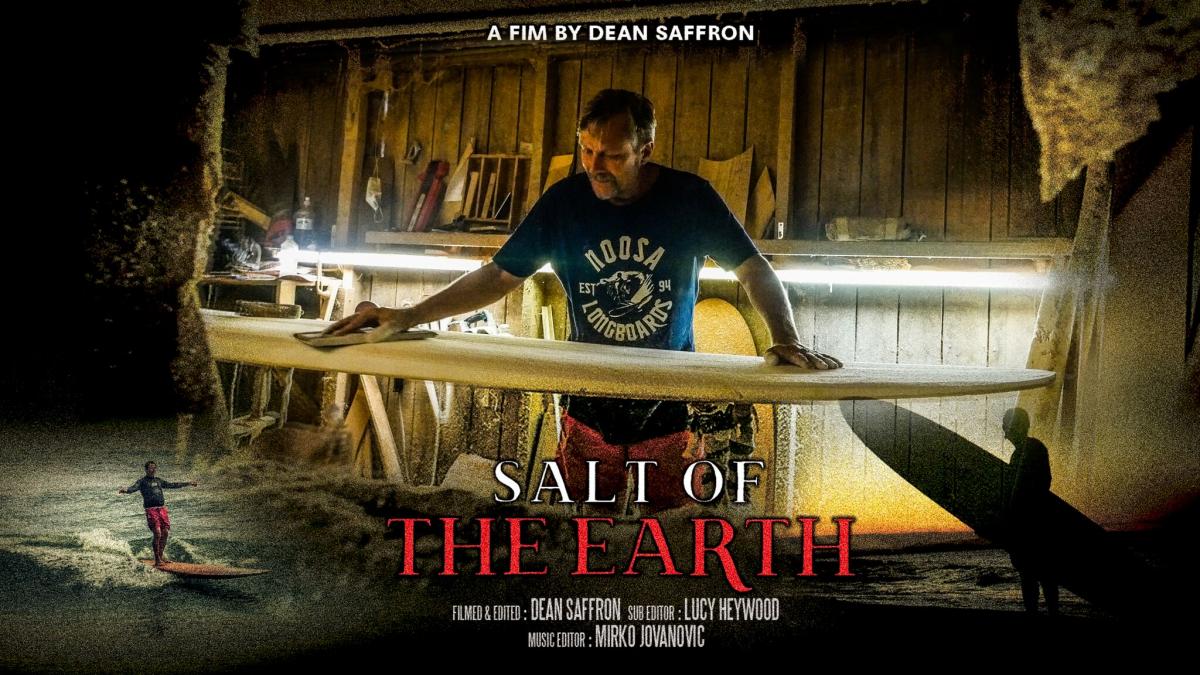 In 2008, Tom gave a talk at the Patagonia Surf Shop in Encinitas California.  It was a little bit of a catch up on what Tom had been up to since he abrubptly disappeared from Encinitas a decade earlier. Patagonia made a four part youtube clip on the talk.
---