Golden Days Festival – Green Day Out
Tom Wegener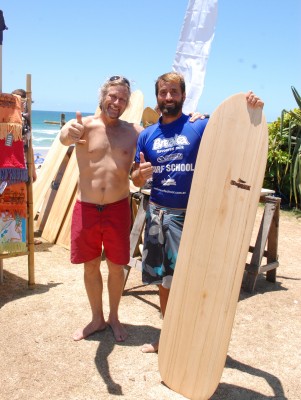 Tom with Italian visitor from Alaia Religion
It was an Alaia Bonanza at the recent Green Day Out, held in conjunction with the Golden Days Festival at Coolum Beach! Hosted by Sunshine Coast Surfrider Foundation for just a few gold coins donation you could surf an alaia from Tom Wegener's extensive personal collection. This was the brilliant new fund raising event dreamed up as a part of the Golden Days Festival at Coolum beach.  The Surfrider Foundation, Coolum Surfing School and Tom Wegener Surfboards teamed up to put on this unique event which brought lots of attention and donations to the local Surfrider Foundation and delivered a one-time, wood alaia experience to the public. In the morning several top local rippers took out the alaia shapes that have been made famous by Rob Machado and David Rastovich.  They said they have been curious about the boards and this was the first time they could try one and it was great to see the local rippers step out of their comfort zone and face the challenge of something new.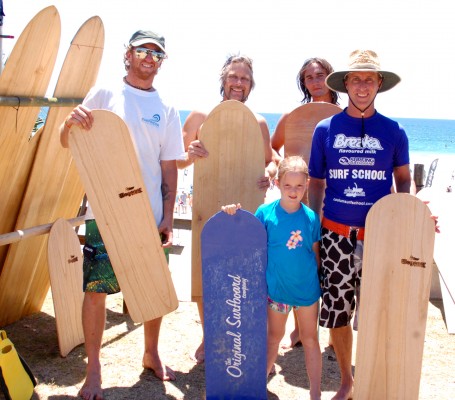 Experienced surfers, new surfers and even very young surfers!
As the morning progressed families came to the beach and kids and parents alike were keen to ride the wood alaia body boards.  The old style boards are addictive to ride in little shore breaks. The buzz is the same regardless of the skill level.  No less than 100 people made the Surfrider donation, put on the Coolum Surf School jersey and braved the waist high reforms! The smiles were a clear indication that they felt the joy of surfing. This was a special day; Pico and the Golden Days Festival crew promoted the event, Coolum Surf School helped with safety and insurance, the Surfrider Foundation facilitated the event and Tom Wegener Surfboards provided surfboards and instruction.  For the public, they got the chance to ride the little wood alaia and find out what the ancient surf stoke was all about!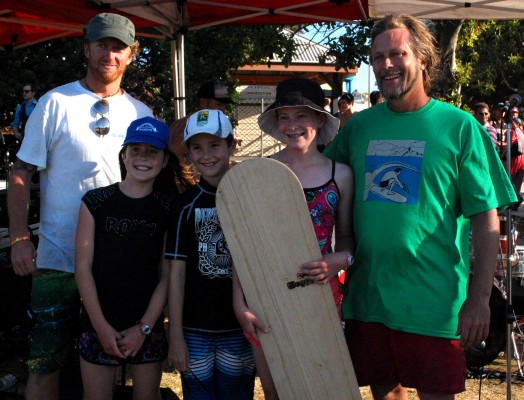 Aisha, with her new Tom Wegener alaia bellyboard, and family.
In a little fun competition - where the criteria was based on the biggest smile, the best wave entry and the longest ride onto the sand – the winner was 12 year old Aisha who was visiting Coolum with her family from Melbourne. We hope she remembers this day forever! More on the ALAIA