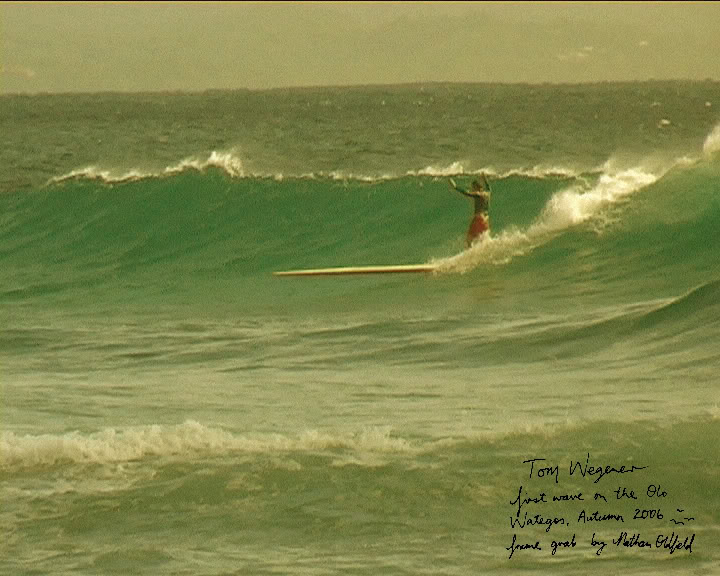 This wave lives large in my memory.  Forever is a moment and a moment is forever. It took nearly a year of determined effor to learn how to surf this board and it was a life highlight to get this wave in front of the lens of the great Nathan Oldfield.  This segment is in his movie, Seaworthy
The Olo surfboard was reserved for the ancient Hawaiian royal class.  Surfing as the "sport of kings" comes from stand-up surfing by the royalty of Hawaii surfing on the long Olo surfboards.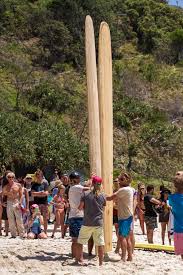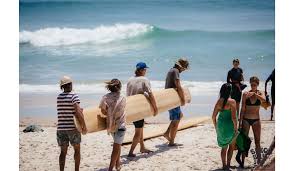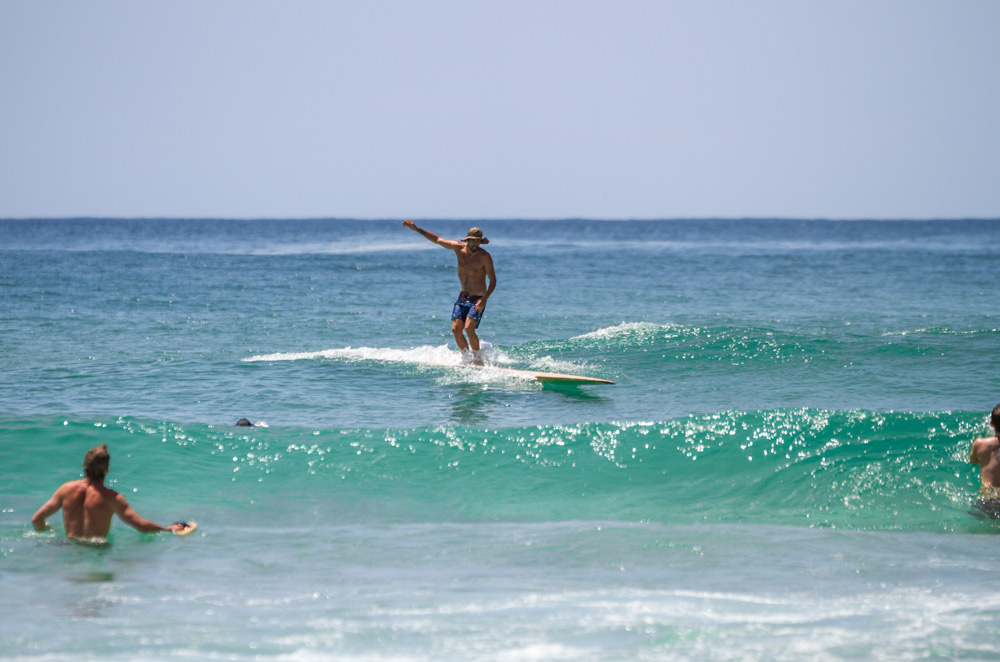 At the Byron Bay Surf Festival, 2013, David Rastovich and I brought our Olos for a display. The surf was tiny and totally unsuitable for these boards, but of course, David managed to get an amazing ride.  Photos by Scotty Denholm.
In 2004 I visited the Bishop Museum in Hawaii specifically to see and template the 16' Olo of high chief Paki. I replicated this board and surfed it through 2005.  It weighed 150 lbs and took a long time to understand.  It was a dangerous board to surf and gave me a heightened respect for the ancient's ability and strength. Surfing this board is hard to explain.  It is like a surfer trying to explain surfing to a non-surfer.    I made one for myself in 2004 and then made one for David Rastovich in 2008. 
This is the story of how David Rastovich got on the olo.  We were chasing a Cyclone Swell off of Morton Island.  The swells were large and rolling around the north point.  The conditions were cylconic with a 30kn offshore wind and dumping rain. I brought two big boards and convinced David that the conditions were perfect for him to try the olo.  We paddled out and fought the current waiting for a bomb set. The rain was so hard that we could barly see shore.  Finally, a set came in and David caught the large rolling swell. I could see David's head above the back of the wave when in trim. He was hooting and hollering as he surfed around the island and out of my sight. (I caught the next set and promptly lost my board and had the scariest swim of my life in the shark infested waters.) 
This story is similar to a story Tom Blake told about Duke Kahanamoku.  Duke had made a 16 foot semi hollow Waikiki plank style board he called his olo.  Tom and the Duke waited for a big day at Waikiki to try the new long board.  As Duke caught the big swell he had been waiting for, he whooped and yelled as if "wine had gone to his head."
David Came to our home, like an early Wegener surf stay, to help make the Olo.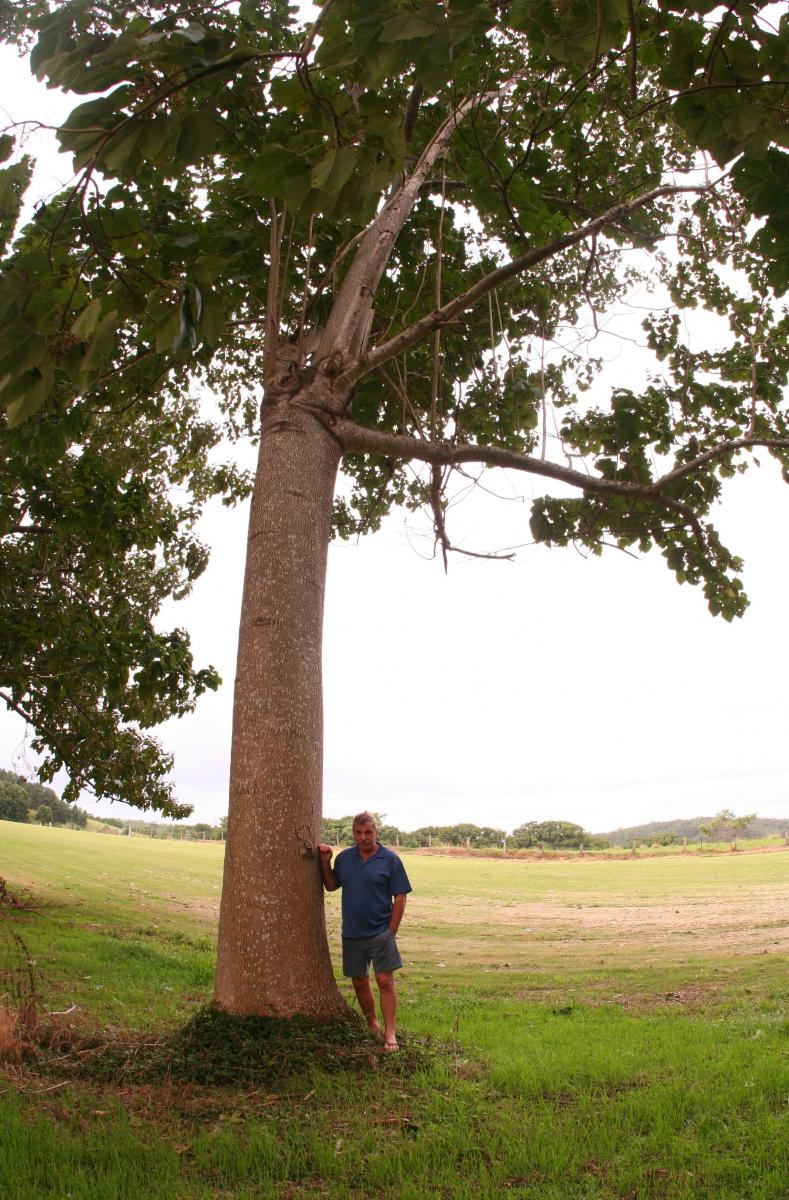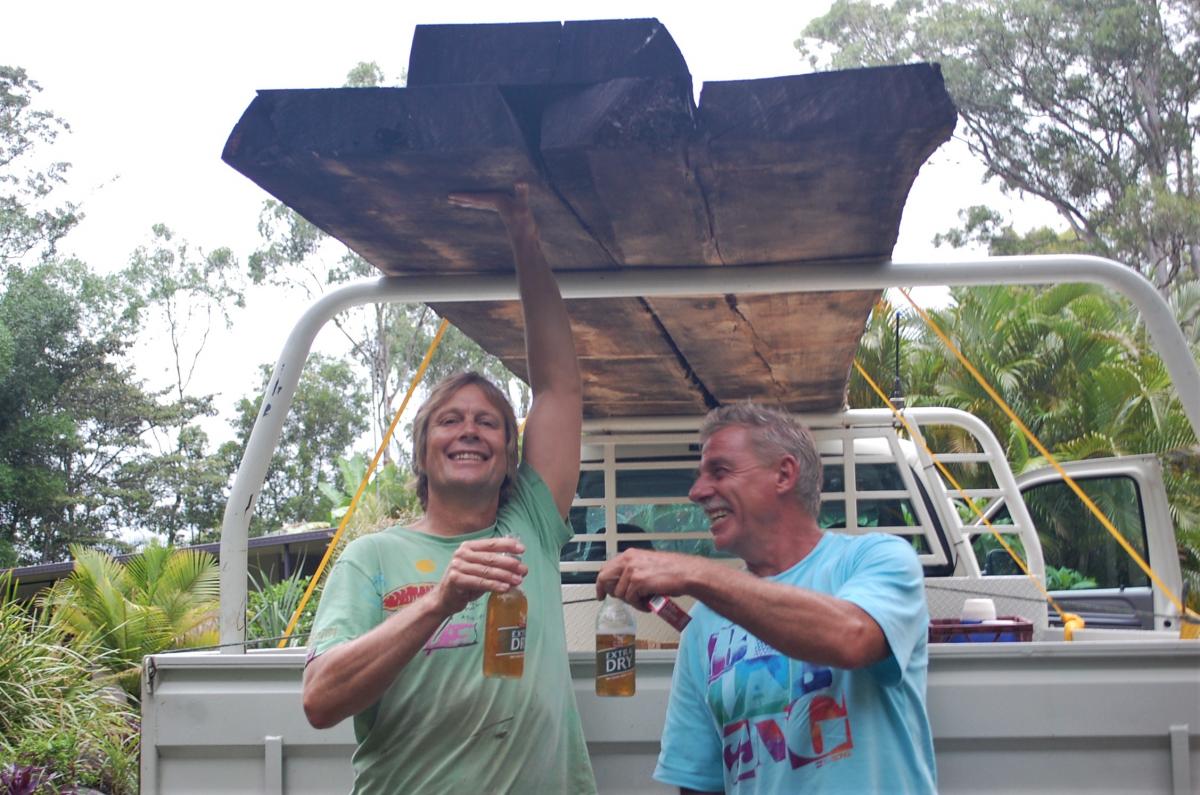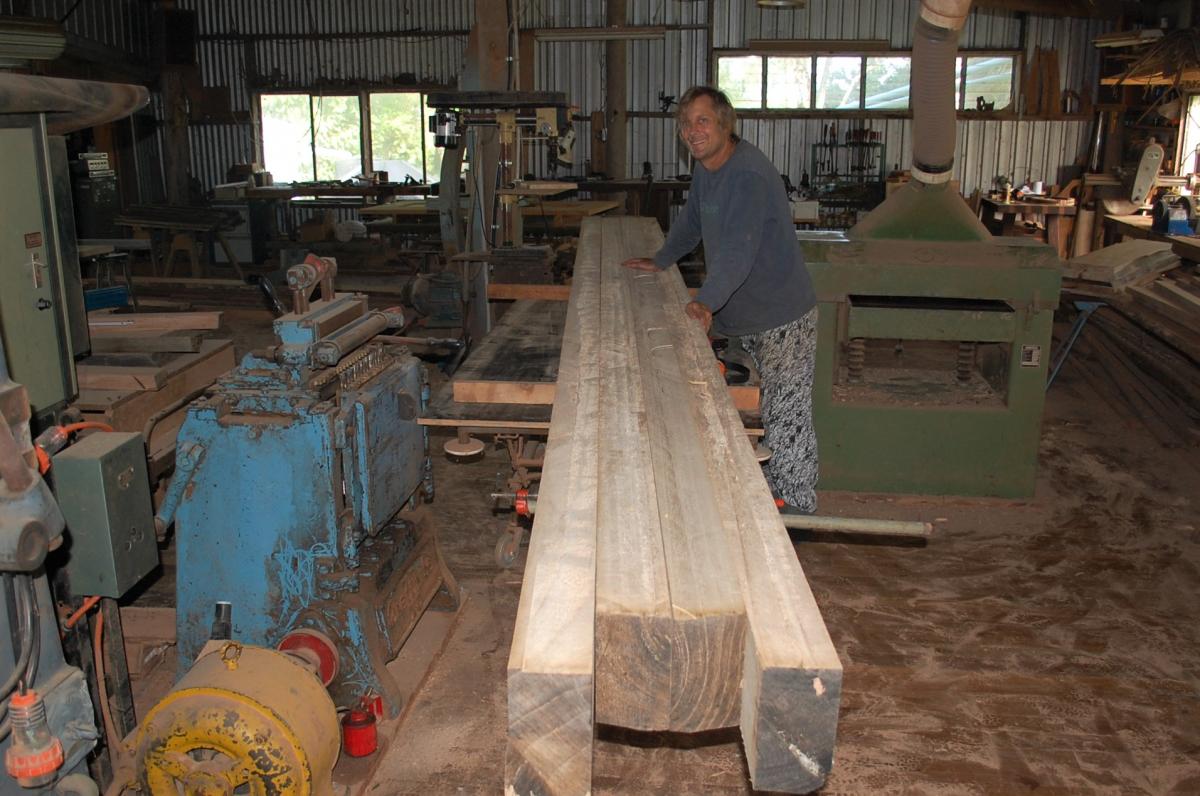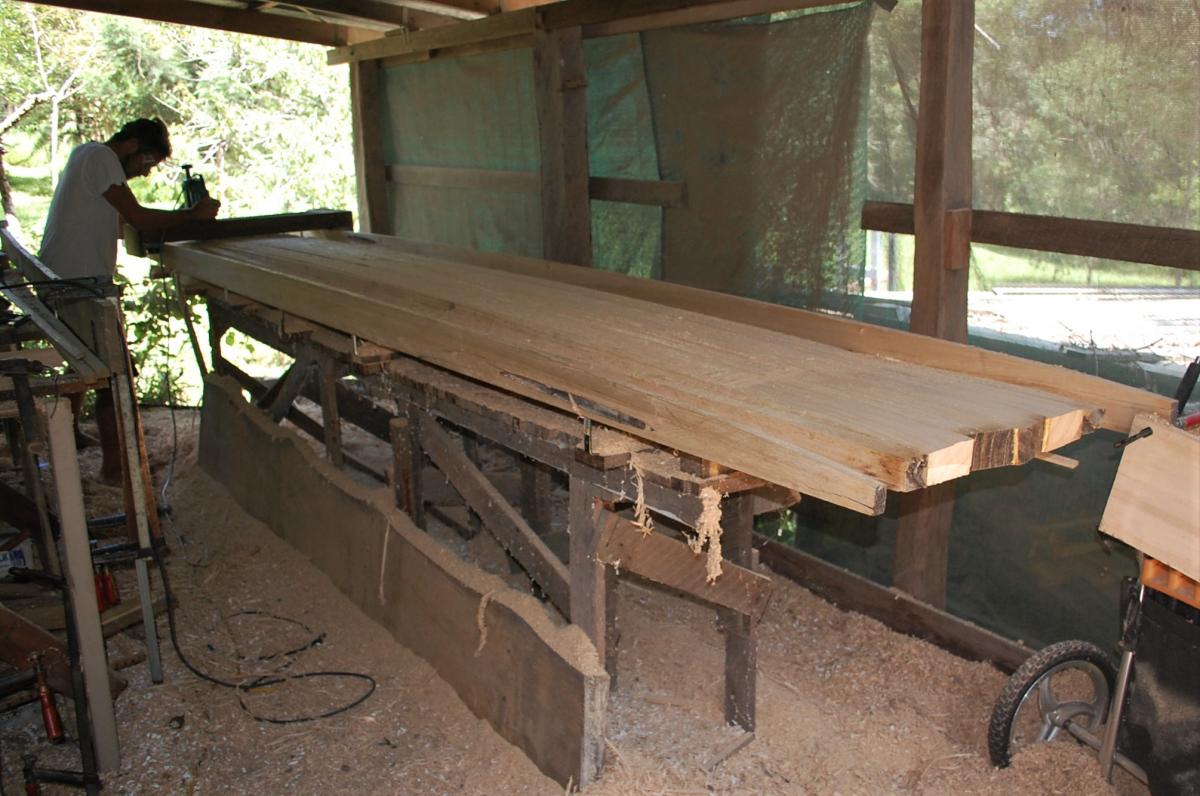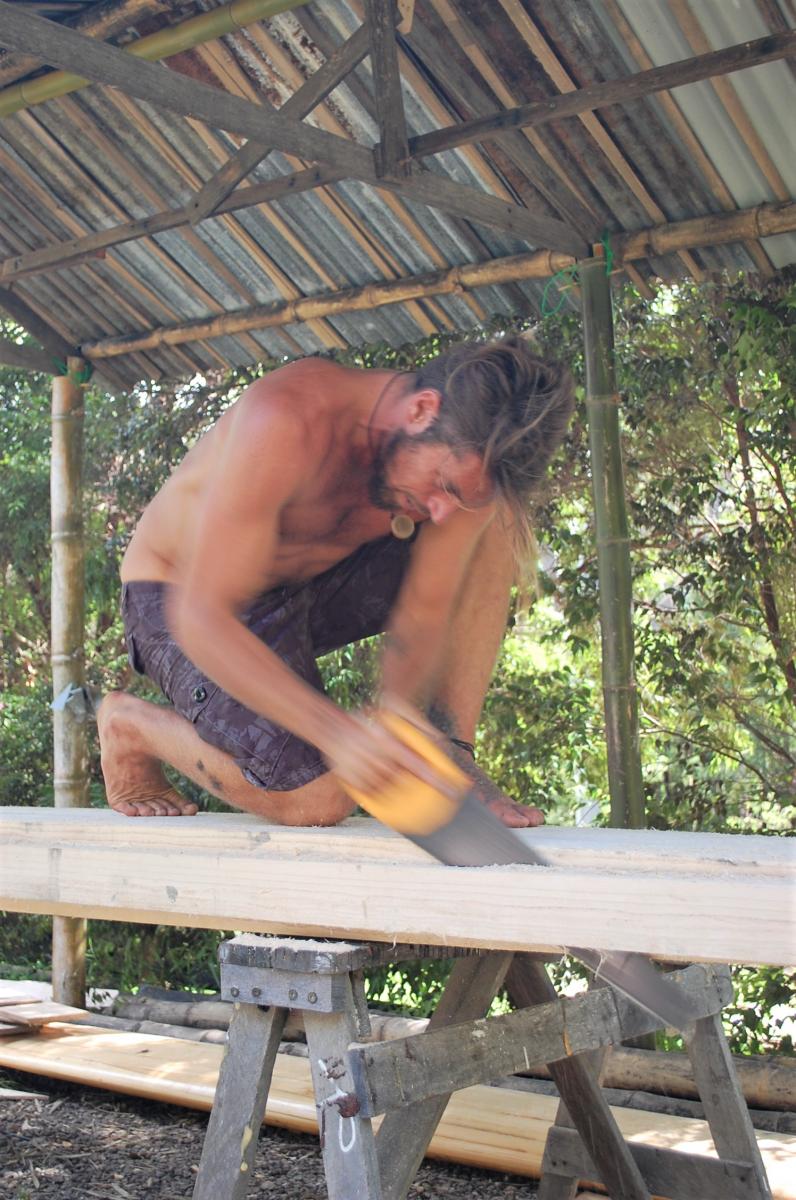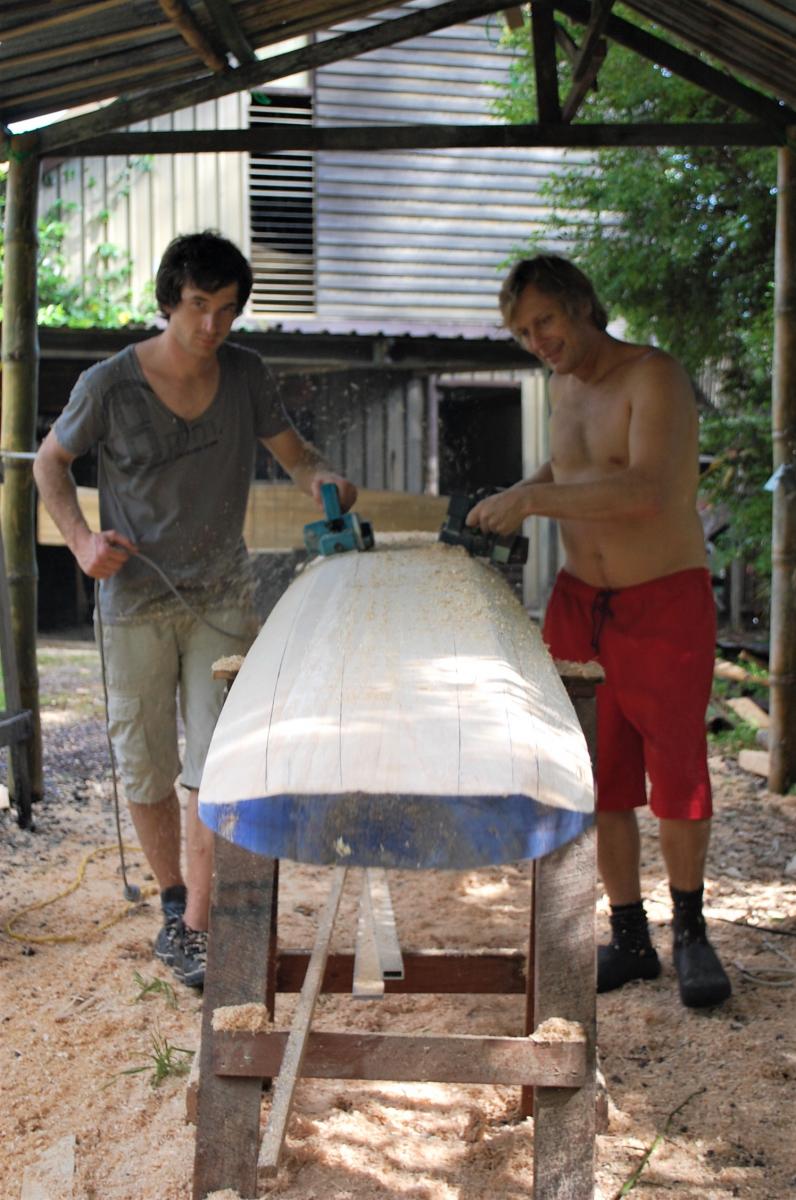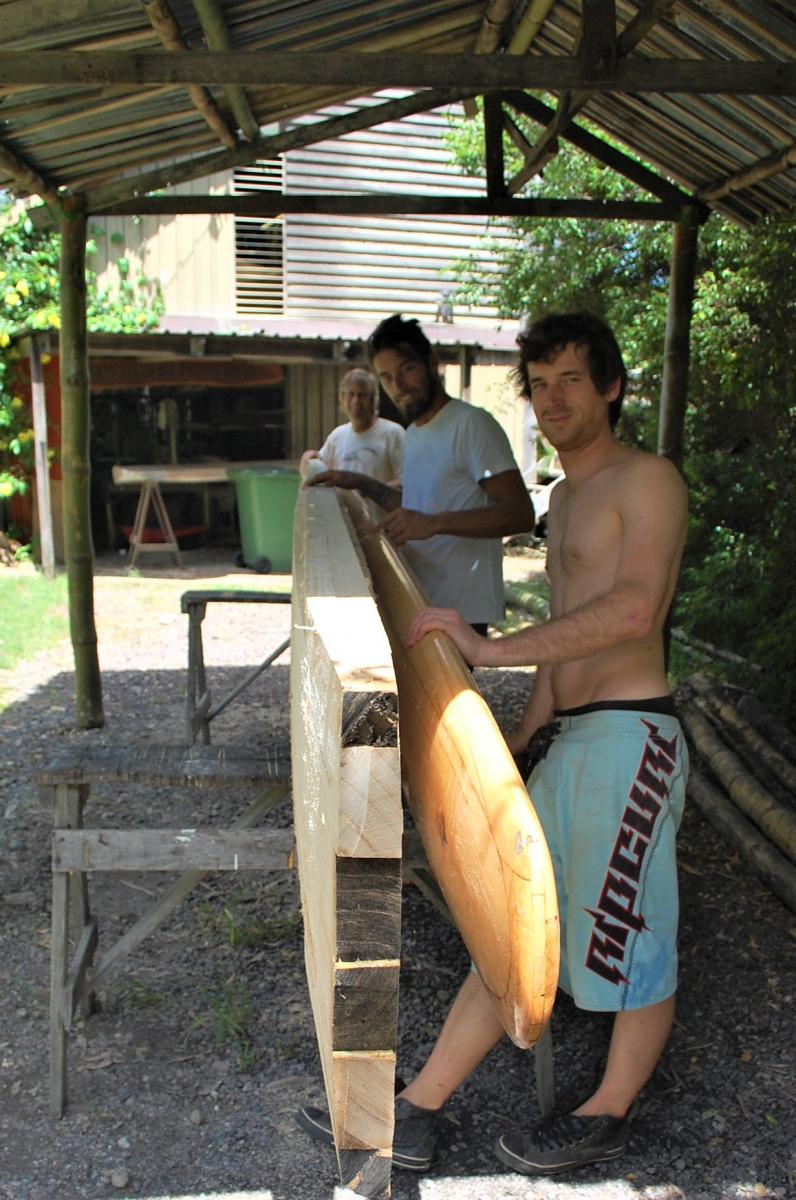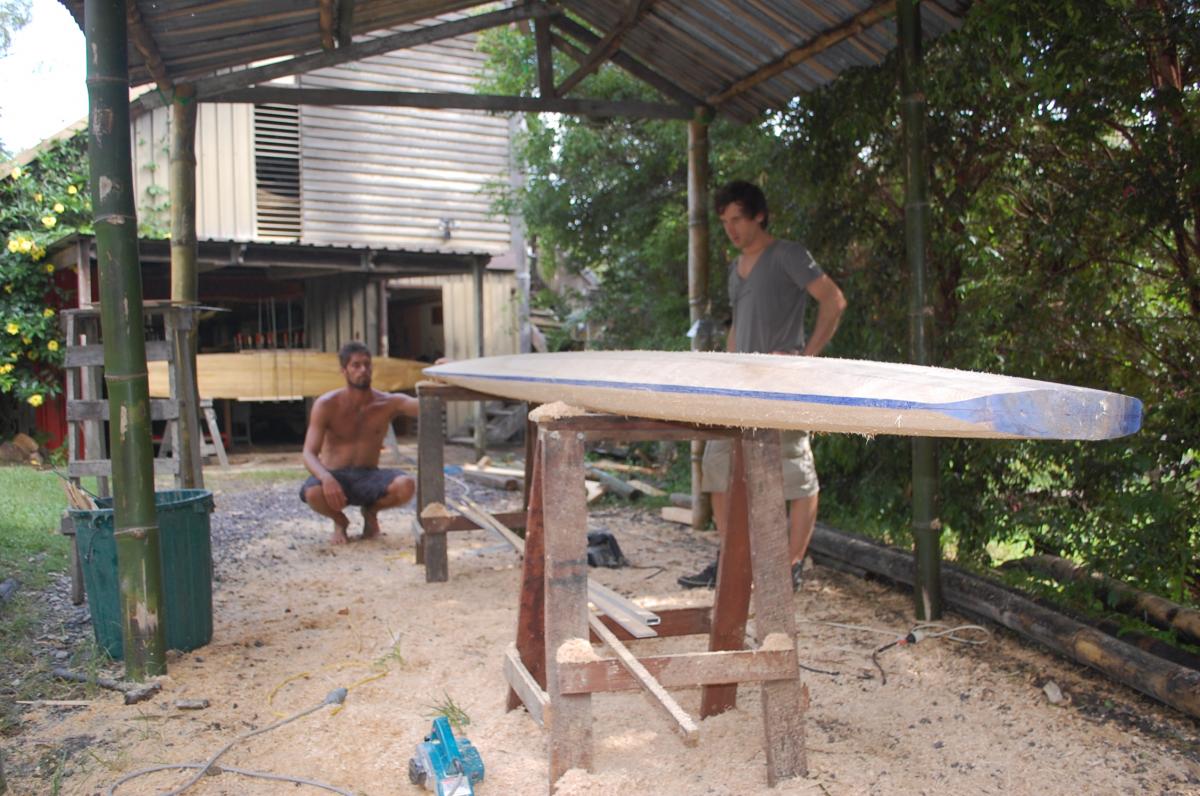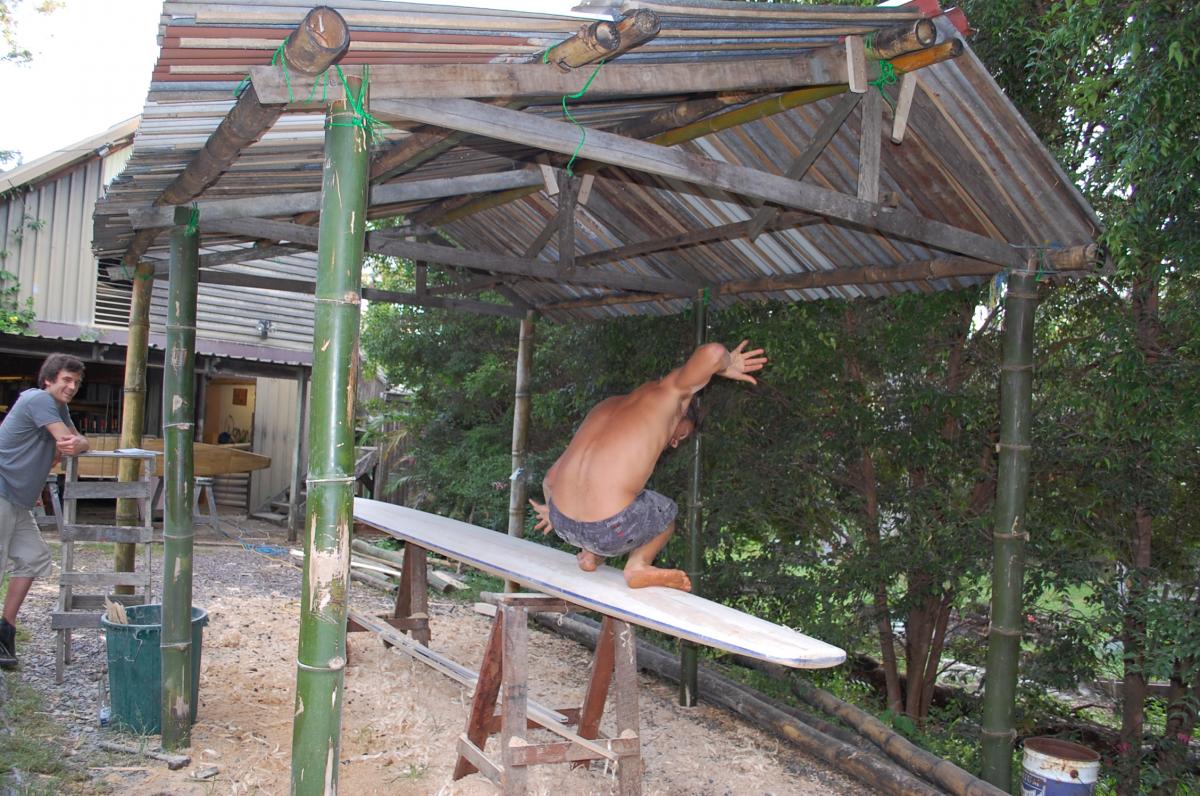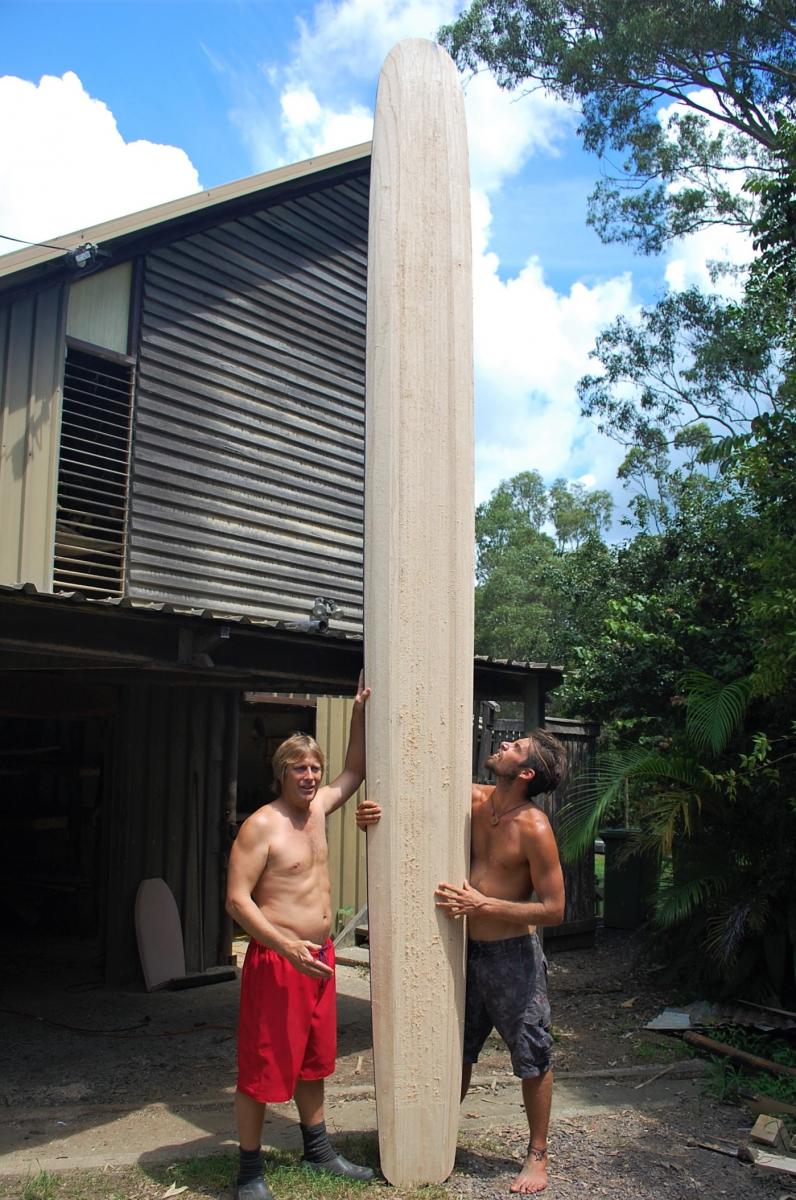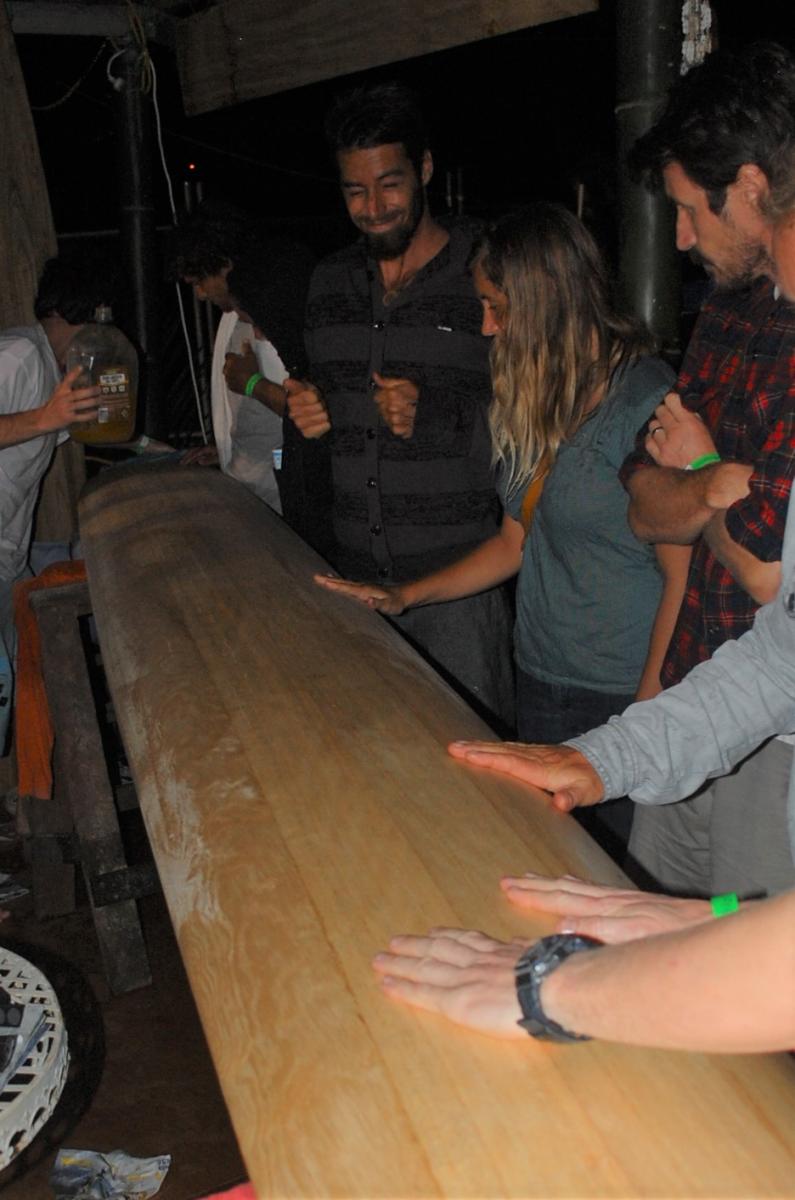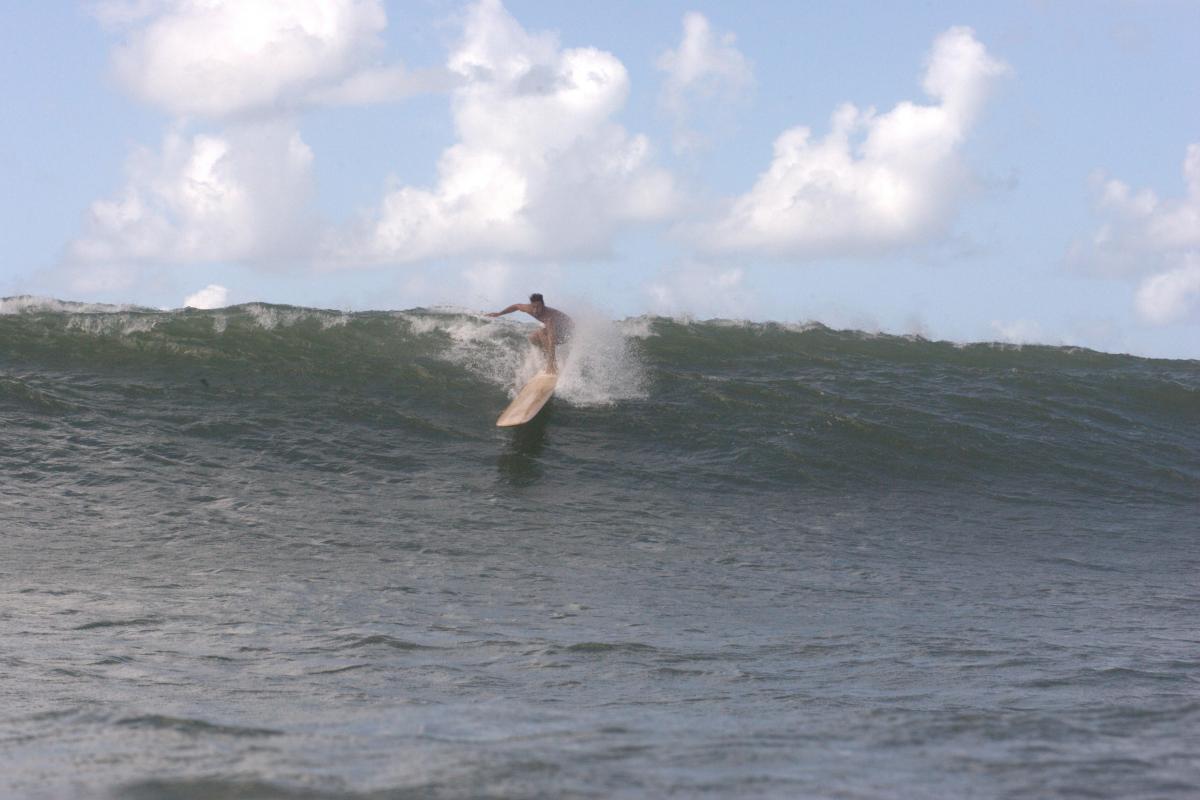 How we made David's Olo.  Carl Seahouse had an extra large paulownia tree on his plantation and Ryan Heywood took this photo in 2005.  The tree was then cut and dried in big slabs and in 2008 Carl delivered the slabs to my home.  I cut down the slabs and then had them milled and the first four pieces glued together at a friend's mill. I made rocker templates for my router cradle and began to cut the rocker. half way through I glued the two outer pieces on to the blank and then David took over on the router jig. We drew the template and David did much of the cutting.  I painted the outside rail blue knowing that we are done shaping it will only a pen line thick all the way around the board.  I measured and drew out each bevel and Belgian violin maker, Toon Soomers (came to work with me for a few months), planed to the lines. We checked our progress against my own olo I made in 2004/5. David starting practicing surfing it.  Why does David look cool in long shorts while I look like Santa with his shirt off? Finally, we have a celebration upon oiling it. A few days later David Rides the board at Granite Bay.
I can make one from solid paulownia or I can make a modern version with the corky method.  The corky olo would be infinitely safer and easier to control.  I look forward to making another.
Price: 
Solid paulownia $10,000 
Corky $3500